There are two brand new night markets in town. We went to see how they compare with Bangkok's old favorites. Photos by Nemintorn Ketkeaw
By Tewit Phanitprachaya | Feb 24, 2015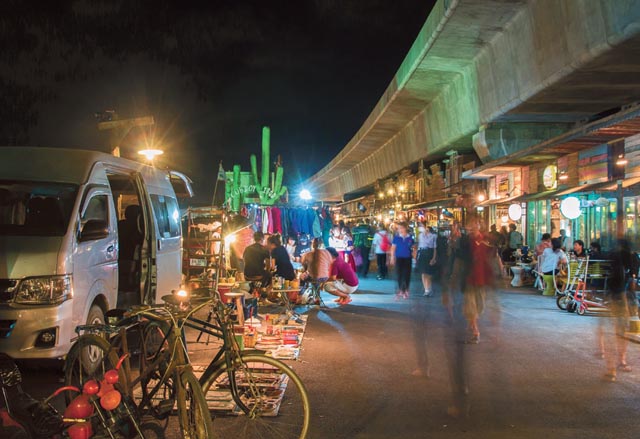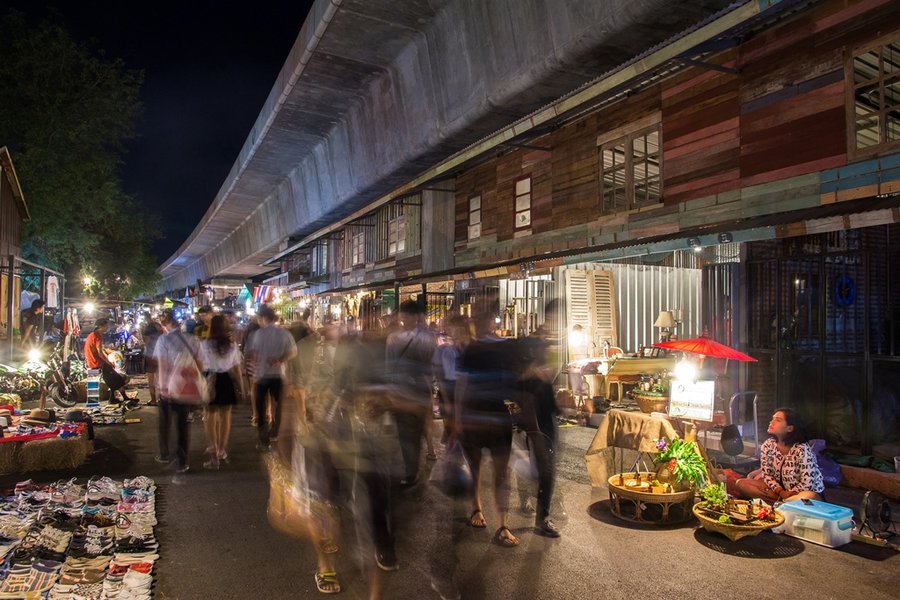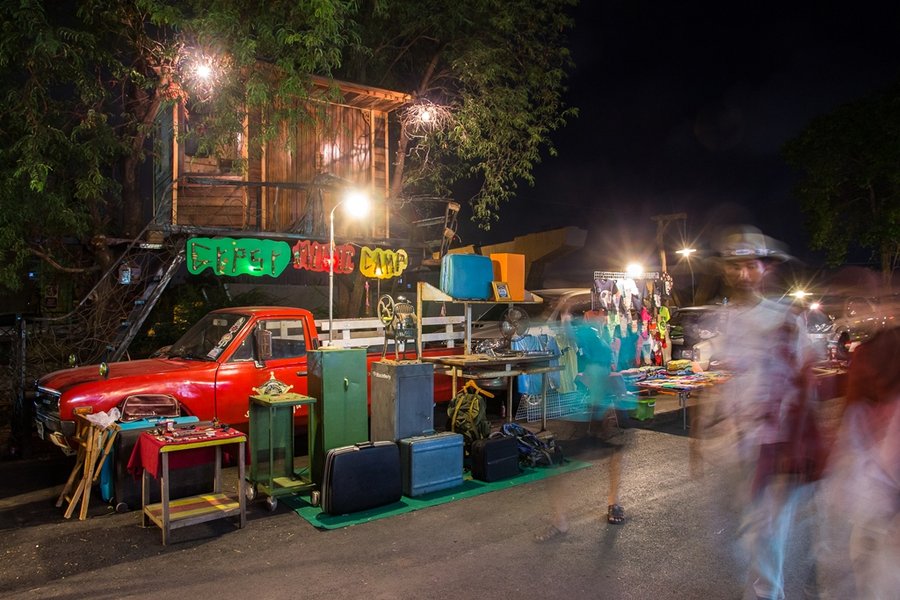 NEW:

 Siam Gypsy Junction
Does this name seem familiar? That's because Gypsy Market was once part of JJ Green. The owner has now collaborated with notorious gambler-cum-businessman Chud Tao Poon on this B100 million transformation of a shadowy, 1.6-kilometer-long swathe of road beneath the soon-to-be MRT Bang Son station. But don't expect the new market to be the same as the old one. After a major revamp, it now sports an Oriental-meets-Wild-West vibe.
What we like: Piles and piles of eye-candy spanning everything from collectible Lego to taxidermied buffalo, auto spares, classic movie posters and knickknacks for the home. Many stalls also have old turntables crackling out vinyl music, while elsewhere you'll find impromptu gigs from indie outfits, complete with haybale seating.
What to buy: The secondhand and faux-old items are strictly themed by section: nostalgic sweets, old-school toys, secondhand apparel, Harley-Davidson collectibles, comic books and more. We also found some lovely time-honored home curios like porcelain kitchenware and ceramic flower pots. There are a number of pop-up bars, too, most of which have a cross-continental tavern kind of vibe and affordable prices.
What annoys us: With both cyclists and motorcyclists riding the entire 1.6km stretch, the market can seem un-pedestrian-friendly at times. We love looking at all the custom bikes, but they'd be nicer stationary and not screeching past us.
Who goes there: With a shortage of convenient transport, most visitors come from around the area––families, students and other random market explorers.
Pro tips: If you happen to own a bike, bring it with you to avoid feeling left out. Also, the ground-level railway running alongside the market is still active. Keep a wide distance!
Where: MRT Bang Son (under construction). Open Wed-Sun 6pm-1am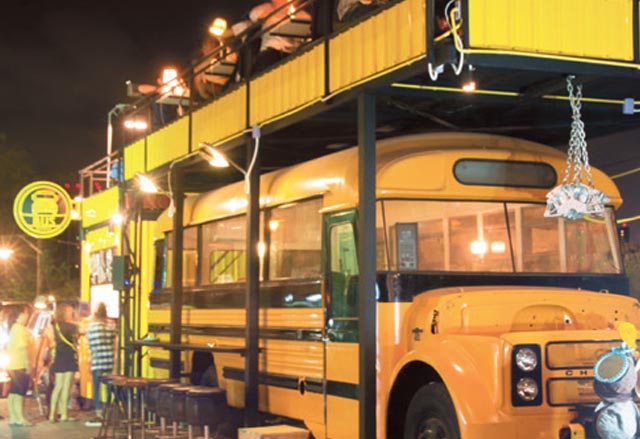 > DRINK HERE:

 Bus Bangkok
This patio-like boozer sits in a modified double-decker van with an expanded rooftop drinking area decked out in a retro-tinged fashion. Enjoy panoramic views of the bulb-lit market while sipping Hoegarden (B165) to an ever-rewarding Thai playlist. Go for Sangsom (B250) or Corona (B150) to round off your night wildly.
Siam Gypsy Junction. 083-613-6564. Open Wed-Sun 6pm-1am. 
---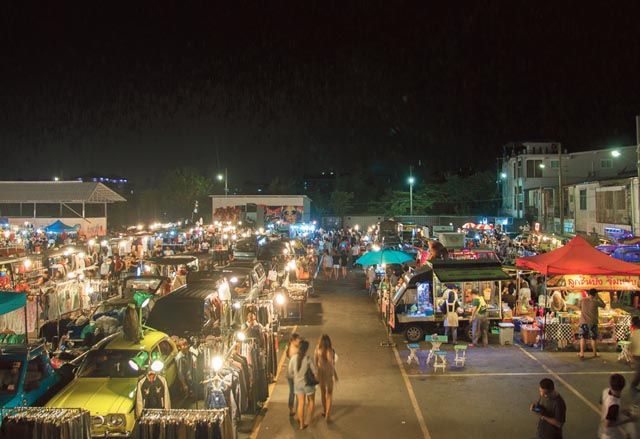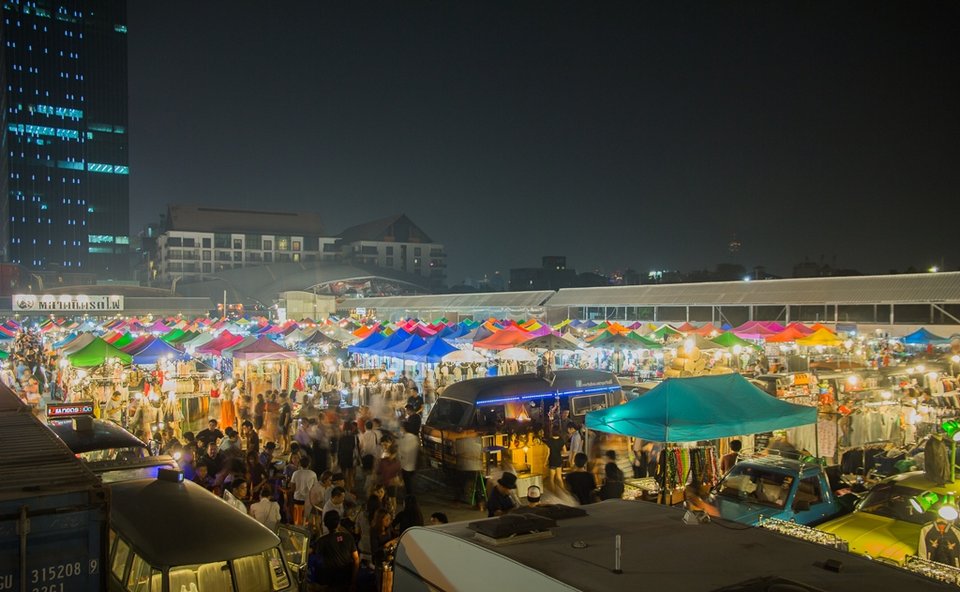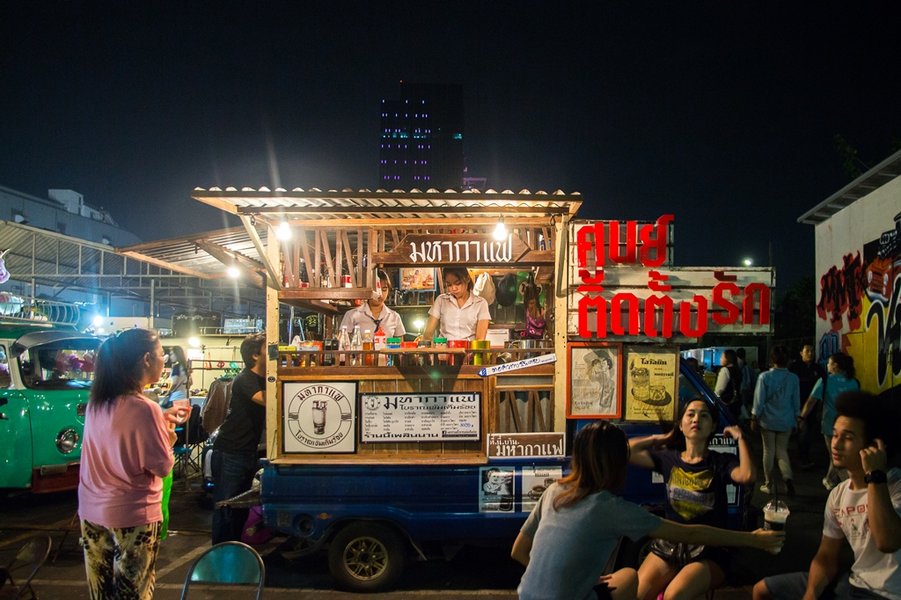 NEW:

 Rod Fai Market 2
Following the huge success of the first Talad Rod Fai (see below), the market's owner Pairod Rolraew has just opened another branch in the more accessible Ratchada area. What was once a parking lot behind Esplanade Complex has been given a mega face-lift. Though smaller, the new market boasts a similar vintage atmosphere to the original. Expect a vibrant bazaar of street fashion, food and home decor—a welcome sight given the closure of the Ratchada Night Market a few years ago.
What we like: Why mess with a winning formula? This newbie already matches its out-of-town Srinakarin predecessor for color and crowds. The stylized, Art Deco-inspired entrance (think Hua Lampong) from the original makes a reappearance with a few barely recognizable differences. There are street gigs from local indie artists, of course, while the drinks are a real bonus: from old-school, manually-pumped sodas to traditional Thai-style coffee and boozier offerings.
What to buy: The street eats are endless, from all kinds of yum (salad) to on-the-go meat skewers. The home decor section is a retro goldmine, too, spanning faux 18th-century grandfather clocks to neon-lit Heineken billboards. Like all markets, there are also piles and piles of pre-loved clothes, but here you can expect a better-thanaverage selection.
What annoys us: Come the weekend the crowds are pretty terrifying. On top of the unwanted invasions of private space, some popular, Pantip-hyped food stalls like Ba Mee Poo Jom Pa Lhung (prices starting at B150-B700) require you to stand in line for at least half an hour.
Who goes there: Everyone, especially teens—but what did you expect, with the MRT so close?
Pro tips: If you take the MRT, you're absolutely fine. Otherwise, parking at Esplanade is a nightmare (especially if it's holding a performance like Beauty and the Beast). Your car may end up half a kilometer away in a scary, old building.
Where: Esplanade Complex, next to MRT Thai Cultural Center. Open Thu-Sun 5pm-1am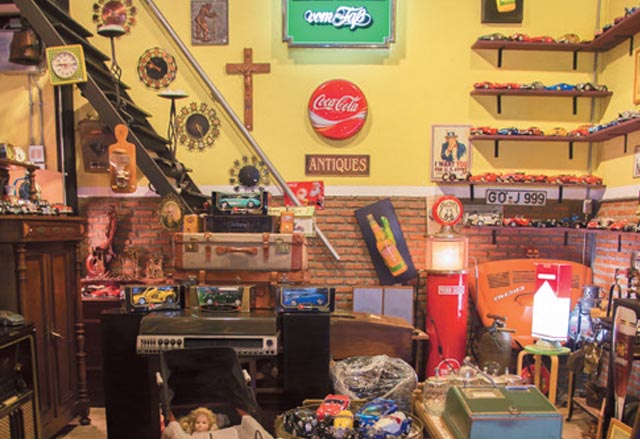 > SHOP HERE:

 Oh!! Antique
This enticing, vintage-looking furniture showroom displays products the owner and his wife picked up on their travels, as well as other imported wares. Among the highlights are 18th-19th century pieces like opulent Louis XVI-esque sofas, English-style tea paraphernalia, antique figurines and old car models. Also available are smaller decorative pieces such as typewriters, nightstands and oak-wood chairs. Prices vary from item to item but start at around B1,000 for smaller pieces.
Rod Fai Market 2, 081-897-4184. Open Thu-Sun, 5pm-midnight
---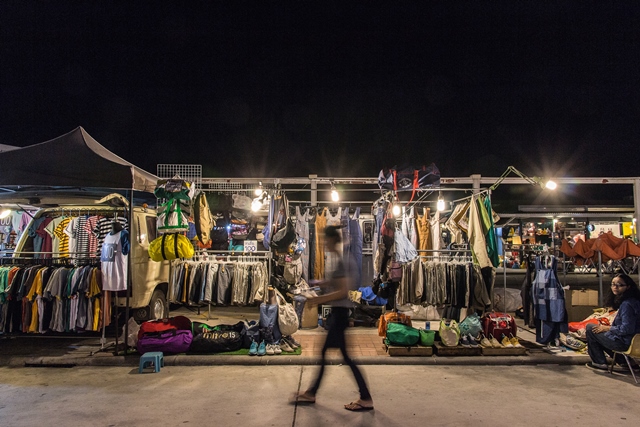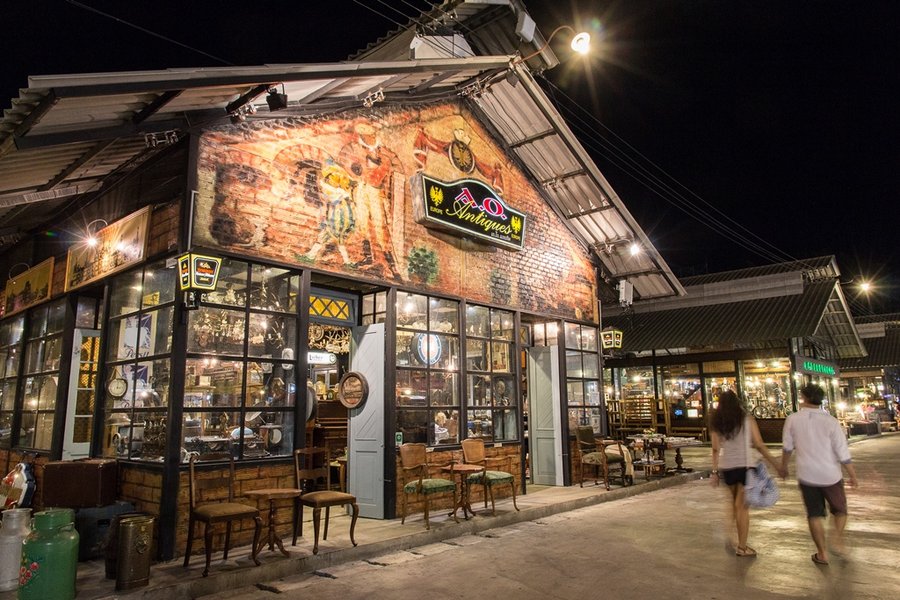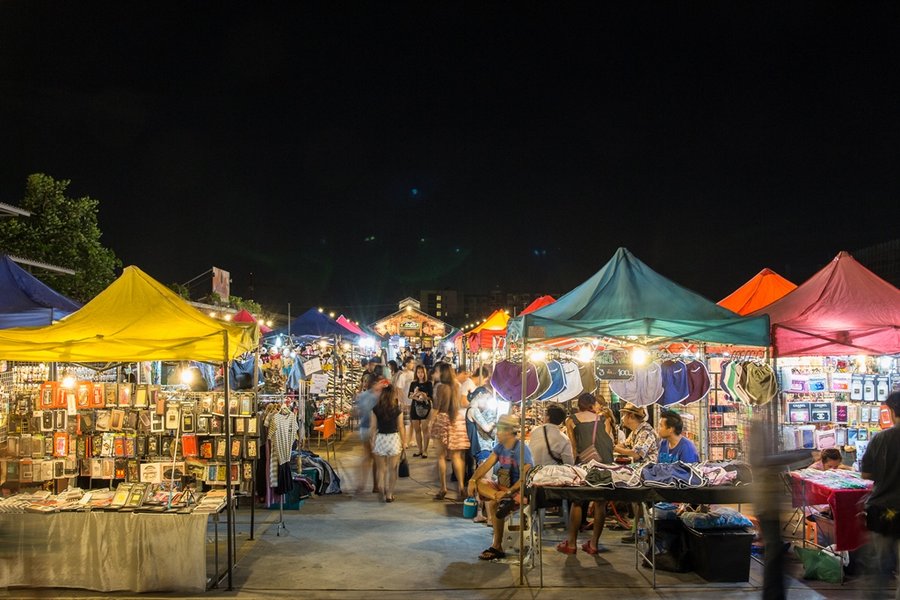 Rod Fai Market 1 
Tucked behind Paradise Park, this is the original vintage shoppers' mecca (though it used to be over near Chatuchak). The area is vast, and though best known for its vintage furniture stores, carries a great deal more besides, from cheap electronic goods to pets. 
What we like: Though no longer anywhere near Rod Fai Park, they've kept up the railway theme well, from the front entrance to the Wild West-styled warehouses at the back. There are also some great vintage finds, from old rock T-shirts and workers' overalls to furniture of various styles. 
What to buy: The front zone is dedicated to bars and coffee shops, as well as a few stores selling new (vintage-style) items like posters and bike accessories. The in-the-know crowd heads straight to the back of the market. Tawasilp Lamp Décor (081-880-9809) specializes in old enamel lampshades that start around the B1,000 mark, while nearby U-Saard is our top choice for larger furnishings. 
What annoys us: The pedestrian access is terrible. There's one route in and one route out, and it's nowhere near adequate for the amount of people who go there. What's more, each of the tiny bars has its own live band competing against one another, which makes for one awful racket. We also reckon it's time to ditch the puppy-bait pet stores.
Who goes there: Sri Nakarin teenagers and the nine-to-five workforce. 
Pro tips: The market is really deep, and the only good stuff is right at the back. First timers can easily be put off by the rows of plastic tat before they get to anything cool.
Where: Sri Nakarin Soi 51, behind Paradise Park. Open Fri-Sun 6pm-midnight
---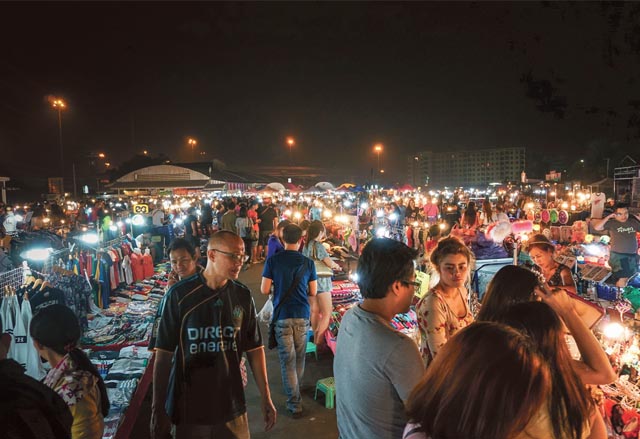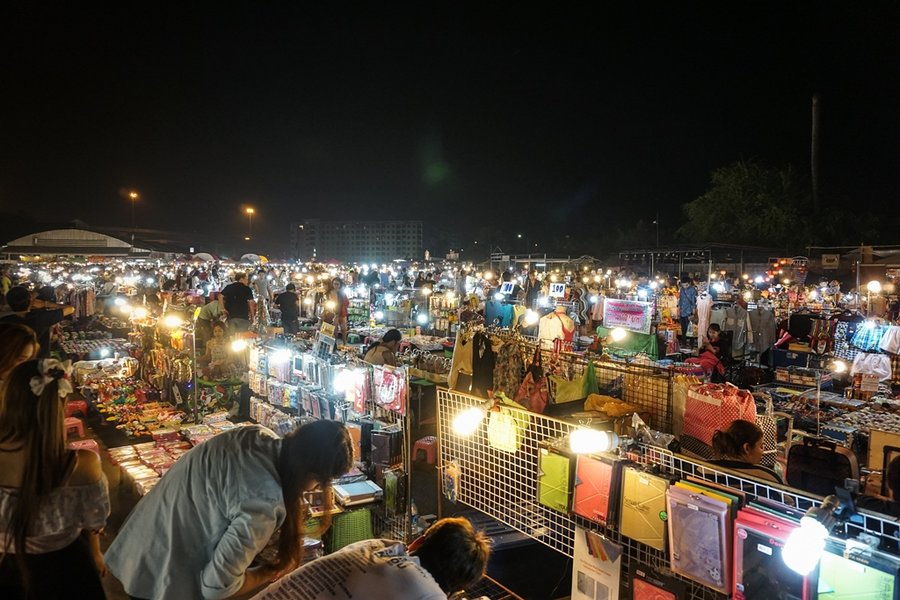 Liab Duan Night Market
Drive a little further out of town and you'll find this market whose name in Thai means "the market located along the expressway." This night market transforms 17 rai of land in the Ramintra-Ekkamai neighborhood into pandemonium, with bumper-to-bumper cars crowding the entrance every evening.
What we like: The Thai idiom bae kar din (selling stuff on the ground) pretty much sums this market up. Unlike most night markets
around town, Liab Duan makes no allusions to hipness. This is as down-to-earth as gets, with a low-key charm to counteract your inner-city angst. It's open daily, too.
What to buy: There's no shortage of clothes to squander your paycheck on: from basic tees to more runway-suitable looks—most of which are copycats coming in under B1,000. Expect colorful Chinese-produced G-Shocks, monogram-patterned Louis Vuitton counterfeits and New Balance sneakers with faux-velvet upholstery. But fret not; elsewhere you'll find heartwarming corners filled with vintage-looking bric-a-brac, old-school sweets and artsy tote bags. The pop-up barbers are inviting at only B200 (no wash), too.
What annoys us: The parking lot. You'll need to wear more than flip-flops to navigate this dusty, bumpy patch of earth. We can only imagine how bad it gets in the rainy season.
Who goes there: Local residents and club-goers who stop here on Fridays before heading off to the bars along the Ekkamai- Ramintra Road.
Pro tips: If wandering the market sipping a multi-berry smoothie doesn't quite quench your thirst, do note the long row of booze bars situated just inside the market grounds. Not only are the drinks cheaper this far out of the city, but it seems the strong arm of the law hasn't extinguished the shisha smoke, either.
Where: Opposite Tawandang German Brewery (Ramintra Branch), near Watcharapon junction. Open daily 5pm-2am
---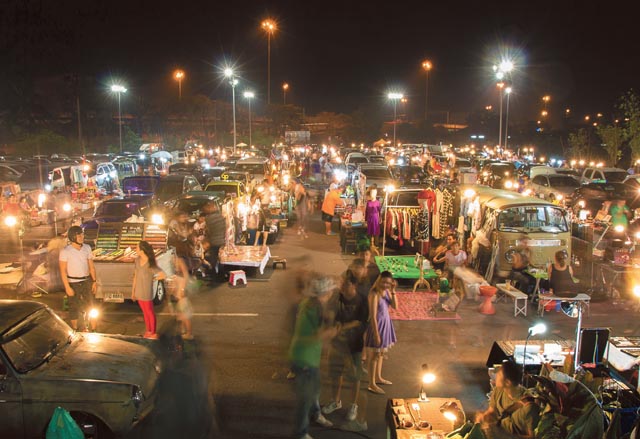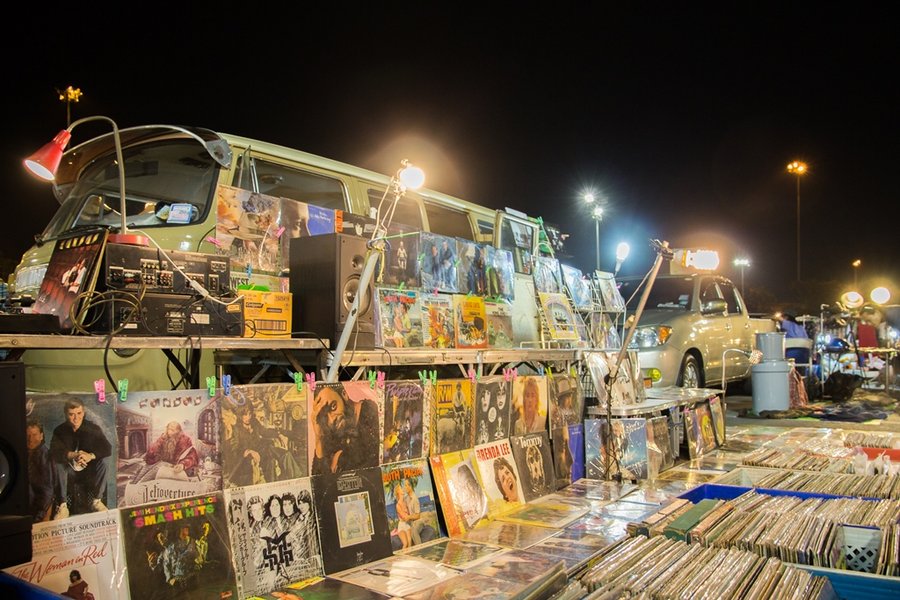 Rot Boran Market (Classic Car Market)
Not too far from Liab Duan Night Market, over on Kaset-Nawamin Road, you'll find this cool-looking market stashed away behind The Walk community mall. Beyond its towering, Art Deco-inspired façade is an array of classic automobiles converted into pop-up stores. Situated right by a serene lake, this hidden gem is just the spot to enjoy a retro-tinged evening.
What we like: The breezy rock 'n' roll-fueled Americana vibes, emphasized by some of the well-turned-out vendors. The vintage Volkswagens and beige-hued buildings make for some good selfie backdrops, too.
What to buy: There are all sorts of secondhand knickknacks—some cool, some not—including time-honored Buddhist amulets,
old-school pin to (lunchboxes), vintage tea and coffee paraphernalia, and local and imported vinyl records.
What annoys us: It's all a little bit too good to be true, starting with the picturesque setting. While the laidback, country-style vibes
are a nice change, Rot Boran seems to lack the spontaneous edge of the other markets. It feels a little bit cliquey. Also, there aren't many food stalls, just a couple of places selling drinks.
Who goes there: Kasetsart uni students and resident yuppies, plus some random revelers taking a stroll before hitting the bars along Ekkamai-Ramintra Road.
Pro tips: Newcomers to this part of town might be bewildered by its seemingly endless straight boulevards lined with unfinished once-to-be-expressway pillars. You (or your rookie taxi driver) could easily mistake the turn-off for Nawamin Festival Walk for your actual destination, too. Luckily, each pillar has a visibly-sized number sprayed onto it. Watch out for pillar number 175 and make a U-turn (if coming from Nawamin Road) to arrive at the real The Walk.
Where: The Walk, Kaset-Nawamin Rd. Open Tue and Thu 5pm-midnight
> SHOP HERE: Aod's Turntable and Equipment
Vinyl records are all the rage again and this shop provides a very appealing range of secondhand imported LPs and 7-inches (pop, rock, jazz, heavy metal, reggae, thrash—you name it) as well as Thai oldies. Among all the classic soundtracks, crate-diggers will spot lots of Jimi Hendrix, Queen, Carabao, The Palace and Fruity, with prices starting from B100. The owner also buys vinyl at pretty competitive prices, too.
Rot Boran Market, 081-625-4563. Open Tue and Thu, 5pm-midnight
---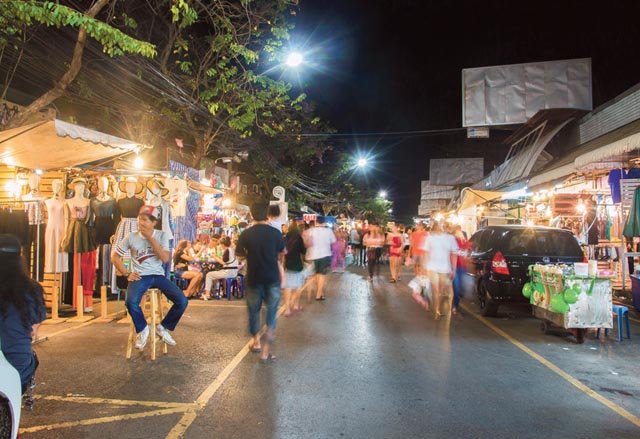 Chatuchak Friday Night Market
By day the asphyxiating Chatuchak Weekend Market is throbbing with local and imported shopaholics. Friday night, though, sees fewer crowds and particular attention paid to local fashion brands and street eats.
What we like: The gleeful absence of scorching sunlight and the more laid-back vibe may convince you to bid farewell to the daytime JJ for good. Thanks to thousands of light bulbs, all of the sub-sois and main roads inside the market are surprisingly well lit.
What to buy: Chatuchak is still Chatuchak, irrespective of what time you visit. The majority of shops are pretty much the same as you'll find in the daytime, including local fashion brands—dresses, glasses, caps, jeans, tees, you name it––from both wholesalers and retailers. Note that only sections 12, 14, 16, 18 and 20 (clothing, accessories and food) are operational at night––no gardening, pet and ceramics zones.
What annoys us: Cars are allowed to drive inside the market, making for some tight squeezes. Also, there's only one block of toilets for the whole market. Be prepared.
Who goes there: Ninety-percent Thai teen night strollers, with only a few expats for company.
Pro tips: Peak traffic is about 11pm-midnight. We say drop by around 10pm or otherwise after midnight. The parking lots inside the market are catastrophic, with shockingly limited spaces. There are also horror stories about miscalculated parking fees. Not that the dark, tree-shaded streets beside the market are any better, whether it's the local self-appointed mafia asking for money or the police clamping down on illegal parking.
Where: Kamphaeng Phet 2 Rd. Open Fri 10pm-late night. BTS Mo Chit/MRT Chatuchak Park
---
Green Vintage Night Market
Just a stone's throw from Chatuchak Weekend Market, this market formerly known as JJ Green is manned by the former owner of the sadly-missed Ratchada Night Market. This impressively funky space blends a low-key selection of fashionable clothing stalls and rows of industrial-slash-retro drinking parlors.
What we like: The massive variety of items, mostly fashion, antiques and home décor, features more than just hipster clutter. Oh and the good-looking crowd that doesn't try too hard to stand out.
What to buy: Known as a mecca for car aficionados, the market's back zone is dedicated to all types of secondhand automobile spare parts (plus bicycles), all of which are pretty open to bargaining. For 80s and 90s kids, there are lots of old-school toys like Tamagotchi and Nintendo devices, plus now-rare cassettes of everyone from The Beatles to Joey Boy.
What annoys us: Largely the same things as at Chatuchak. Plus, if you don't want to have runins with some irascible shop-owners, note that photography is often prohibited, even if it's not properly sign-posted. Who goes there: Fashionable young things and snappily-dressed professionals. Some city slickers.
Where: Kamphaeng Phet 3 Rd. Open Fri-Sun 5pm-midnight. BTS Mo Chit/MRT Chatuchak Park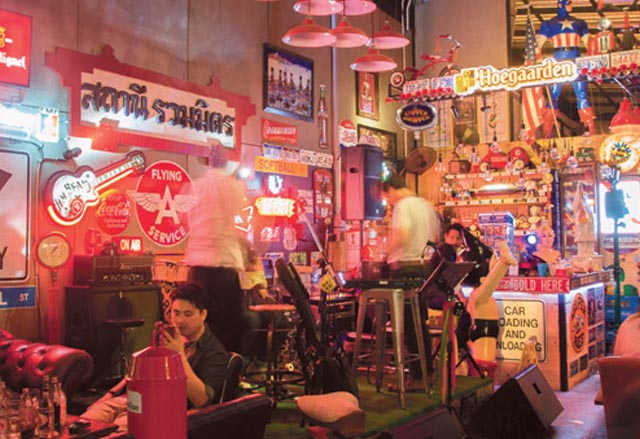 > DRINK HERE:

 Sathan Nee Ruam Mit
Also known as Ruam Mit Station, this cozy bar looks like a long-lost brother of the ubiquitous retro-themed Taksura chain and is packed with eye candy for toy-collecting hobbyists. Designwise, it's all bare cement and retro bric-a-brac like neon-lit clocks and signs. When the old-school jukebox isn't in use, local bands fill the stage. It's cheap, too: you can get drinks and food like San Miguel at B120, Heineken at B70 and kung chae nam pla (raw prawn in spicy fish sauce) at B100.
110/46, Green Vintage Night Market. 087-112-5251. Open Fri-Sun 6pm-2am. BTS Mo Chit
- See more at: http://bk.asia-city.com/shopping/article/bangkok-night-markets#sthash.p0Ug0Btx.dpuf