News Blog
Subscribe to posts


Thailand saw an increase in the number of international productions shooting locally throughout 2017, although this appears to be largely unconnected to a filming incentivelaunched at the start of the year.
Eighty international features filmed in the country through the 12 months – up from 50 in the previous year – but only two productions used the 15% filming incentive support, according to figures from the Thailand Film Office.
"We have worked hard in 2017 to spread the message throughout the industry that Thailand not only offers great locations, fantastic crews and incredible value, but also that we now have an incentive, based on a straightforward cash rebate," said Worateera Suvarnsorn, director of the film office.
International TV and commercial production was far more prolific, numbering 730 separate shoots in total for the year. 
Japanese shoots were the most prolific of the international productions to film in Thailand, with Chinese and UK producers also delivering dozens of shoots.
Thailand has a solid international reputation as a South-East Asian production hub with good equipment resources and a strong crew base. However, the new filming incentive is capped at a little over $2m per eligible production, which limits its true international appeal.   
See KFTV's production guide for more on filming in Thailand.
December 26th 2017.
How to integrate digital media and technology to increase the contribution of digital marketing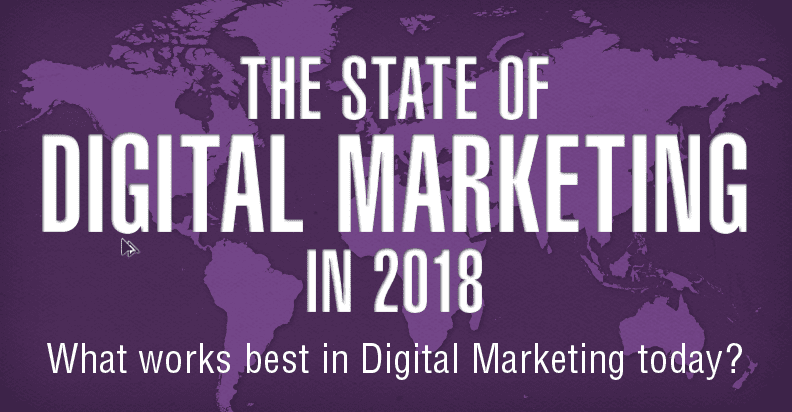 I feel fortunate to have followed some of the amazing major changes in digital marketing and technology over the last 15 or 20 years. I'm sure you will have enjoyed living through, following and acting on these changes too. Looking back, we've seen a phenomenal growth in the importance of organic, then paid search, then social media and more recently, incredible worldwide growth in mobile and particularly smartphone usage.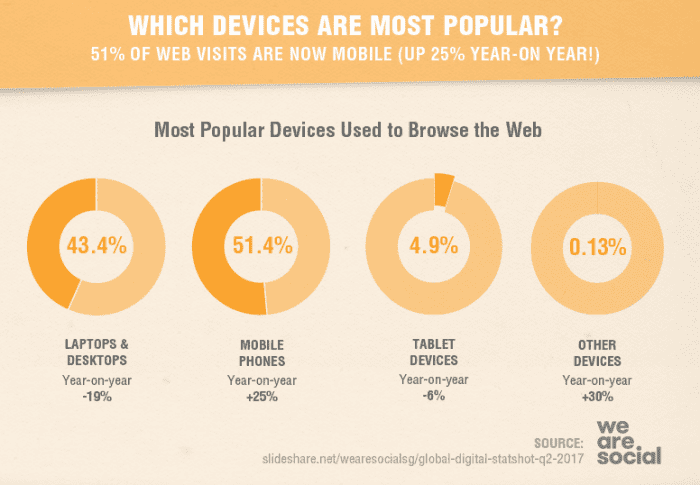 As well as this article, to help Smart Insights members, we also have a more detailed free download of the marketing megatrends, which are 9 digital marketing and martech megatrends that will help give you an edge in 2017.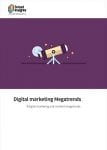 Download free member resource – Digital Marketing Megatrends 2018
Learn how to get an edge in 2018 by deploying the latest marketing techniques that businesses of all types need to consider to stay competitive.
Access the 9 Digital Marketing Megatrends 2018
Looking forward, in this article, I'm going to review 10 new trends which I believe, based on my experience consulting and training, are relevant for marketers across businesses of a range of sizes. But, first, I'm interested to know what you think will be important to you and your business in 2018.
Which marketing trend will be most important to you and your business in 2018?
We have asked this question over the past few years and it's been really interesting to see what 'rocks your digital world' since there are some common themes amongst the top 3 and some activities surprisingly low. The question we asked was around the most important commercial trends. We had around 850 votes from marketers in different types of business from around the world. Thank you if you voted! Here's what you thought: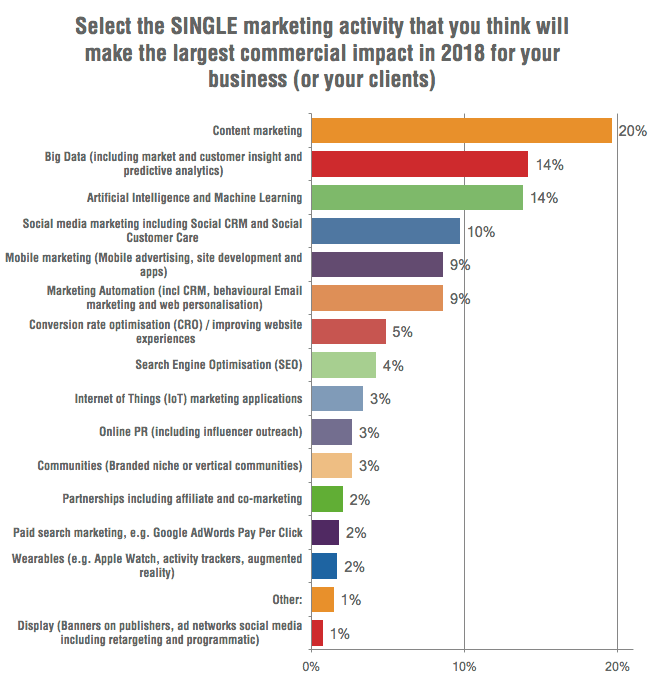 By asking for just one technique from many, this helps shows the top 3, 5 or 10 top-level trends. There are a clear top three techniques, each over 10%, but with a long tail of many other techniques showing the potential for optimising different areas of digital marketing. Let's take a look at the top three...
It's no surprise to see content marketing 'top of the pile' since this has been in the top three for each of the years we have run this poll. We see content marketing as the 'engagement' fuel that powers all digital communications from search to social to email marketing to creating website experiences which convert. Our content marketing toolkit is popular since members want to learn a more planned approach to mapping content against personas across the customer journey.
More of a surprise is that Big Data is in second position. I think this is because marketers are aware of the potential of using data as what we call 'actionable insight'. To help the decision on which technique to choose, we expanded upon the short labels you see in some polls to help scope the response more carefully. 'Big Data' is a nebulous term, but when we expanded the definition to include insight and predictive analytics, it shows the value of the specific marketing techniques for Big Data and this help explains why this is in position number two.
In third position is Artificial Intelligence and Machine Learning. We added this to the poll this year with the interest in it and it's 'straight in at number three'! It's good to see the interest in these techniques which we have been covering a lot on the blog and in our member resources this year. In trend 8 we show how different AI techniques can be mapped against the customer lifecycle.
Here is the full listing of digital marketing techniques:
Big Data (including market and customer insight and predictive analytics)
Conversion rate optimisation (CRO) / improving website experiences
Display (Banners on publishers, ad networks social media including retargeting and programmatic)
Internet of Things (IoT) marketing applications
Mobile marketing (Mobile advertising, site development and apps)
Paid search marketing, e.g. Google AdWords Pay Per Click
Online PR (including influencer outreach)
Partnerships including affiliate and co-marketing
Wearables (e.g. Apple Watch, activity trackers, augmented reality)
The ten marketing trends to act on in 2018
If you look at the 14 themes that we covered last year, none of these top-level marketing techniques are especially new, so it's difficult to describe them as new trends or innovations. However, techniques like Big Data and analytics, Content Marketing and Email/Marketing Automation have continued to grow in importance and will be used by many businesses.
So in my look at the trends this year, I'll be looking at integration as the theme. In our research on managing digital marketing (another free member download) you can see that only 6% of companies thought their integration process was completely optimised, yet many are actively working on integration.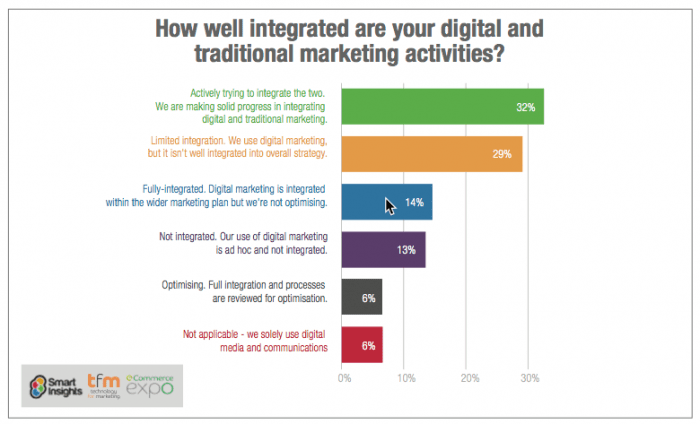 Integrated marketing communications or IMC isn't a concept you see written about much on blogs or social media since it's high-level with everyone getting excited at the latest minor innovations from the frightful 5 - at the time of writing we're getting excited about the Animojis in iPhone X for example. Fun, but they're not going to help deliver the most relevant message and offer for an individual, which is the aim of IMC.
So, let's take a look at the 10 trends. You'll notice that in a lot of these predictions, I'll refer to Artificial Intelligence and Machine Learning. It's what I see as the biggest trend to consider in the year ahead. There has been a lot of hype around it in 2017 and we're starting to understand the opportunities. In 2018 it will become more about selecting solutions and implementation.
Trend 1. Integrating Marketing Activities Into the Customer Lifecycle
Given the way the complexity of marketing and digital marketing has increased, techniques like customer journey mapping for different personas are increasing in importance to help define the most relevant communications and experiences for different touchpoints in the customer journey.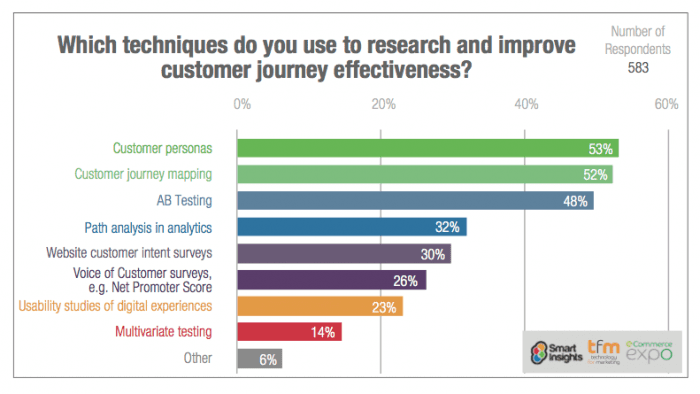 To support this, the way I like to think about how to improve the effectiveness of digital marketing is to think from the customers' viewpoint of the communications opportunity available through the customer lifecycle for different types of business.
We define lifecycle marketing as:
Creating a managed communications or contact strategy to prioritise and integrate the full range of marketing communications channels and experiences to support prospects and customers on their path-to-purchase using techniques such as persuasive personalised messaging and re-targeting.
We designed this mind-tool to help members think through all the potential touchpoints across paid, owned and earned media. Then you can perform a 'gap analysis' of the use and effectiveness of lifecycle comms you are using against those you could be using to increase the relevance and response of communications.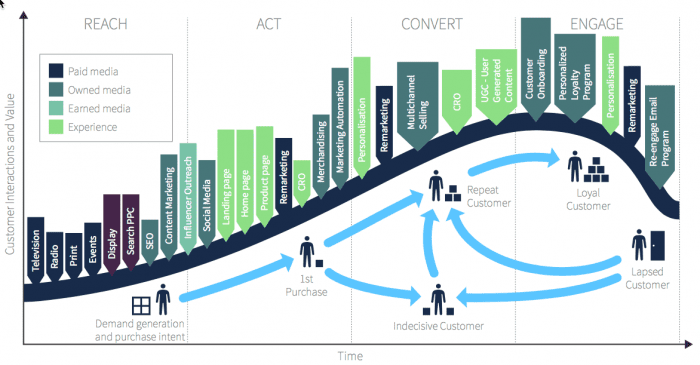 Trend 2. Integrating personalization into the user journey / customer experience
To increase relevance and response of comms, website personalization has been widely used within transactional ecommerce sectors like retail, travel and financial services for a long time now.
More recently, lower cost options have become available with different types of solutions. There are many forms of web personalization varying from those integrated into content or commerce management systems; those integrated into analytics solutions or standalone Software as a Service (SaaS) personalization options that integrate with your CMS and analytics. A useful method to review your use of personalization at the top-level is this experience personalization pyramid: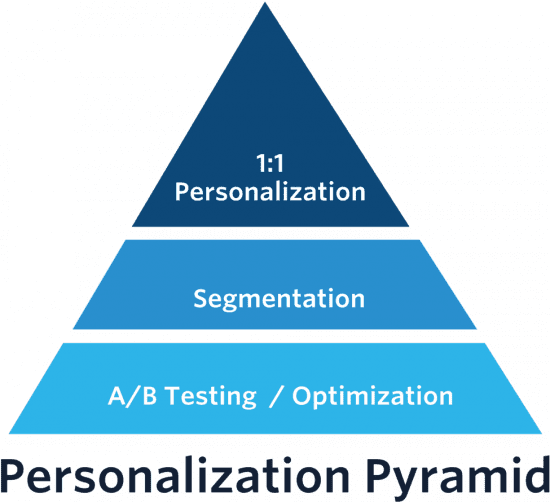 The three levels shown in the chart are:
1. Optimization. Structured experiments. AKA AB Testing or Multivariate testing. Google Optimize is an example of one of these services that launched in 2017.
2. Segmentation. Target site visitor groups, each one with specialized content to increase relevance and conversion.
Each one still requires separate manual rules and creative to be set up. So returns for this approach eventually diminish after the maximum sustainable number of audience segments has been reached.
3. 1-to-1 Personalization. Using Artificial Intelligence (AI) technology to deliver an individualized experience to each customer. 1-to-1 employs some of the same principles as optimization and segmentation, but by offering a solution to their two greatest limitations-delayed results and inability to scale-it represents a fundamentally different approach.
So, the main trend within personalization is increased use of artificial intelligence rather than manual rules. Plus, we can also expect to see Website personalization services being adopted across more sectors than the transactional sectors it has become popular within.
Trend 3. Integrating machine learning into marketing automation
Personalization can also be applied across the lifecycle in email comms.  Yet, our research on email marketing shows that despite the widespread use of email and marketing automation systems, many companies don't manage to put in place a full lifecycle contact system like that shown in the lifecycle visual above.
We assessed segmentation and targeting of emails based on the number of criteria that are used from none at all up to dynamic content.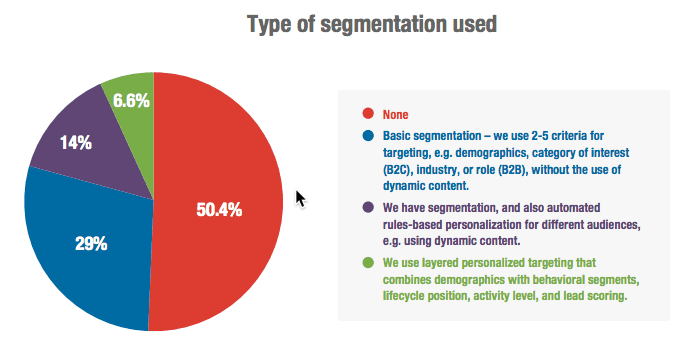 The findings from our State of Email marketing report are shocking: Half (50%) don't use any targeting whatsoever, less than a third (29%) use basic segmentation for targeting and less than 15% use segmentation and personalization rules to reach specific audiences within their database. This means that they may be missing out on opportunities for automated emails with dynamic content for welcome and nurture of prospects and customers.
Although email marketing automation is another technique where artificial intelligence and machine learning is being applied more often. Using machine learning offers opportunities to automate targeting as it does for web personalization. However, personalization is potentially more difficult since emails, by their nature, have more complex creative. This data suggests to me that many businesses aren't ready for AI and machine learning within email marketing and they need to deploy fundamental triggered automation features first.
Trend 4. Integrating social messaging apps into communications
The increasing use of messaging apps is a trend we have mentioned in previous trends round-ups. According to the latest Ofcom Communications Market research more than half of the total mobile audience used Facebook Messenger (61%) and half used WhatsApp (50%). Both properties are owned by Facebook. The Snapchat mobile app had a reach of 28%, with 10.1 million unique visitors.
We've been looking at some early adopters of marketing applications of these social messaging apps on Smart Insights. Examples include using Pizza Hut using Messenger for booking tables and IKEA for customer research.
Trend 5. Integrating video into the customer journey
Video is also increasing in popularity fuelled by social . This breakdown of Google popularity shows the dominance of YouTube. We used to say that YouTube was the second biggest search engine, but this data shows that it is now more popular than Google Search based on number of users in a given month (this research also from the comScore panel via Ofcom).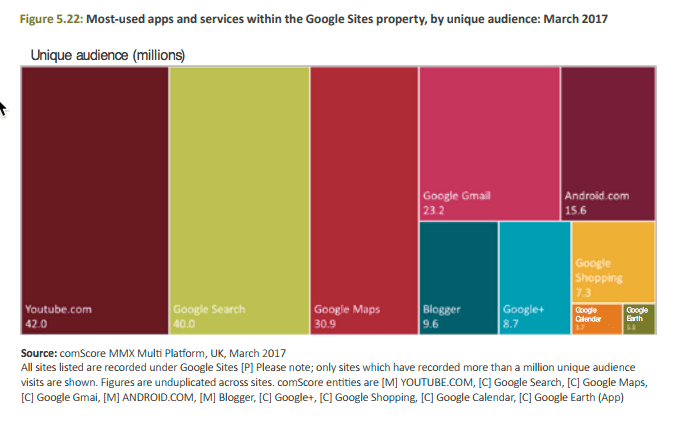 This visual reminds us of the opportunities to use video marketing through the customer lifecycle from pre-roll ads in YouTube (just one option, Google has 10 Video ad options), explainer ads on site and retargeting through video.
Augmented and Virtual Reality are closely related to video engagement, but although we've been tracking these, we have seen fewer examples and case studies this year. So, do let us know of any examples.
Trend 6. Integrating content marketing into the customer journey using a customer engagement strategy
Video is just one type of content, albeit important. In previous polls about the technique that will give the biggest uplift in future, content marketing has been popular, in the top one or two in the list.
The trend I'm seeing here is that businesses are getting serious about treating content as a strategic resource, that means developing a customer engagement strategy using different media as shown in the lifecycle diagrams above, and at a practical level, developing content for different audiences using techniques like Personas and Content mapping. Our research shows that these customer-centric analysis techniques are growing in importance, which has to be a good thing for consumers and businesses!
Recommended resource: Content Marketing Strategy guide
Trend 7. Integrating search marketing into your content marketing activities
If we look at the top digital sales channels, search marketing is dominant. Social media is far behind in most sectors, despite its ongoing popularity with consumers. We now know that in many sectors social media can be a great tool for engaging audiences with a brand and improving favourability and awareness, but it typically doesn't drive lead volume or sales. So I haven't given social media it's own section, although integrating it with other channels like web, search and email marketing remains relevant. See our recap of SMW London for the latest social media trends.
However, within search marketing there is today relatively little innovation that we get to hear about compared to the past. Looking at natural search shows that the Moz algorithm change history has no entries since the non-specific 'Fred' update in March, whereas in previous years it would have had 5+ with new updates to Panda and Penguin. This is partly down to Google sharing less, with Matt Cutts no longer actively evangelising, although updates are available from John Mueller in their Search team.
Within organic search, one trend I think marketers should be aware of is the changing face of the SERPs as shown by the Mozcast SERPs features update which shows the types of links within a bundle of top 10k keywords they monitor.
It shows the importance of techniques such as Knowledge Panels (important for brands and local businesses); Related questions; featured / rich snippets / quick answers and reviews. We have found that the way these vary across the top 3 to 5 positions can make a big difference in the volume of visits from informational searches.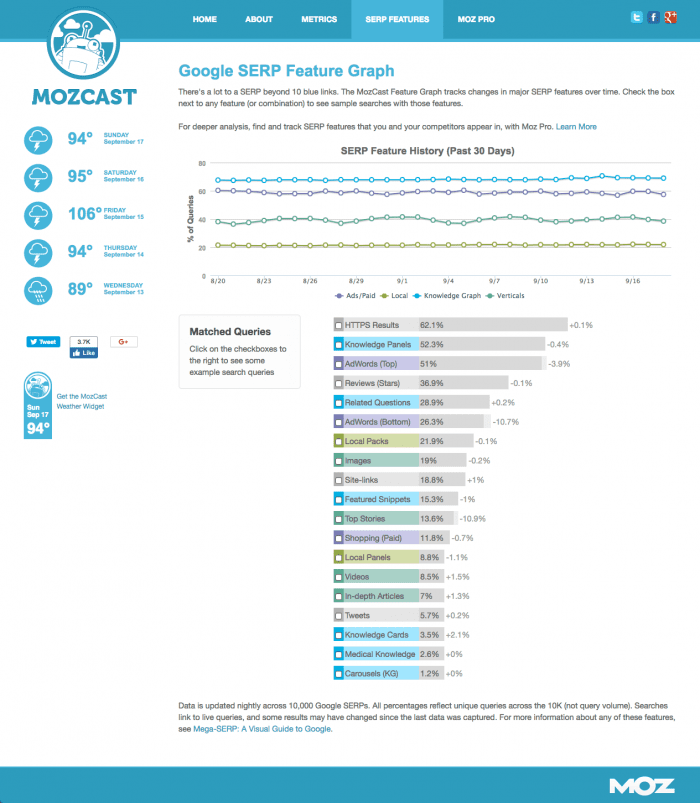 Within AdWords, referencing Google's list of new features shows more innovation. Much of it is around reporting compared to new ad features for mobile in previous years, but there are some new options like with Enhanced CPC (ECPC) bidding and Smart Display campaigns. This is an example of Google deploying different types of machine learning including Automated bidding Using Target CPA as a basis; Automated targeting which means your ads increasingly show where they'll get you the most business and automated ad creation from the building blocks you provide, like headlines, descriptions, logos and images.
Trend 8. Integrating marketing technology
If you follow applications of marketing technology you have almost certainly seen Scott Brinker's Martech landscape which has grown to over 5,000 vendors this year.
Our own digital marketing tools wheel seeks to simplify this, but has over 30 categories of insights and automation tools which shows the challenge of integrating marketing technology. The trend here is that there is no let up in tools offering innovative methods to analyse or automate. Our final two categories highlights some of these.
Given the plethora of martech, the most apt definition seems:
'very large amount of something, especially a larger amount than you need, want, or can deal with'
You might expect there would be a trend to increasing use of marketing clouds, but our research suggests there isn't widespread adoption of these.
As we have mentioned throughout this article, machine learning and AI is one of the biggest trends here, see this article and infographic for AI marketing applications across the lifecycle.
Trend 9. Integrating different data sources
This challenge was highlighted to use recently in our members' Facebook group where a member asked about tools for integrating insights from different paid media ad serving tools which can give the best results if managed separately, for example, Facebook, Twitter, LinkedIn ads and Google AdWords. Rivery.io is a new option that has launched recently, that should do well. The trend here is new integrated media insights tools other than Google or Adobe, which can help you compare performance of different media.
These services are surprisingly expensive, particularly since they are additional analysis tools. They're not martech that directly increases leads or sales to the business. For example, I was recently recommended this service (Funnel.io ) that costs a minimum of $200 / month, even if it's solely used to integrate data from multiple sources into Google Sheets. It's a lot when to get the value from these tools you have to ringfence time so that the analytics are reviewed and acted on sufficiently.
Trend 10. Integrating digital marketing insights sources
Our digital marketing tools wheel contains many free and paid sources of insight about your digital marketing. Here, I'm talking specifically about services which help you stay up-to-date. We're avid users of these services since they help us keep readers up-to-date via our own blog, twice weekly newsletters and monthly What's Hot feature.
In a recent article on keeping marketing teams up-to-date, Mark Kelly explains that we recommend using Feedlyas a way of aggregating primary marketing news sources via RSS. Plus, I recommend taking a look at Zestwhich is a Google Chrome extension, new in 2017, which I and the team at Smart Insights use and is well worth checking out. Its curated content is specifically designed for and updated by marketers. Like Feedly, you can use it to review the most useful content recommended by 'the crowd', in this case 'your tribe' of marketers.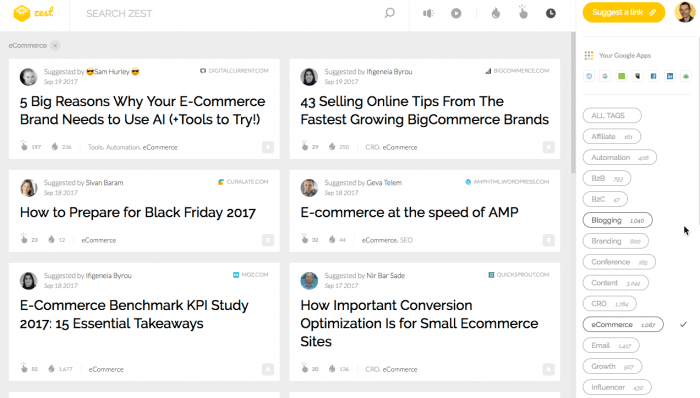 Summary presentation
To give you a different format to view some of the visuals, take a look at this Slideshare
It all adds up to digital transformation
So, those are the 10 trends summarizing how businesses are looking to manage the opportunity of digital media, technology and data by integrating it into their marketing. This brings us to our final trend, digital transformation. Our Managing Digital marketing research shows how many businesses are active in transformation projects.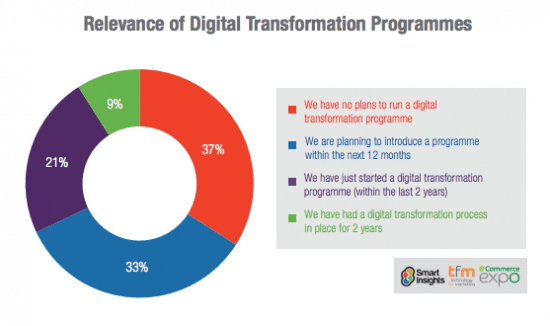 You can see that over one-quarter (30%) of businesses already have a transformation programme in place, with many businesses looking to launch their digital transformation programme imminently. A significant proportion of organizations have no intention to implement a programme, perhaps because they feel it is inappropriate for their type of business, for example, startups and smaller businesses or businesses who are online pure plays.
How to Compare Marketing Video Proposals in 3 Steps
This blog is designed to save you money by helping you choose the right video quote, even if you don't know a lot about video. It includes many real world examples to help you find your way through the maze of video proposals.
Everything starts with the video proposal – the document that'll define what you actually get in your final video, whether your video is in a filmed, digital or animated style – or any mix of these.
As an experienced video buyer you'll obviously already know this.
But when you're presented with a series of proposals, how can you tell which quote will deliver you the value you need, in the style you're looking for? And where can you make effective savings?
Here are the 3 steps to comparing video proposals, so you can compare apples with oranges, and come out on top by paying less than you might have otherwise.
Step 1 – Day rates
No matter what style of video you're making, every marketing video production services company will have 2 core base rates:
The studio edit day rate
The film crew day rate
There can be other day rates for different specialists, but these two rates will always be there, so it's where to start.
This is because studio edit time and film crew days will likely be where the bulk of your money is going in the production, so it pays to know where you're spending the most.
No matter what other video production costs are involved in your quote, for example a cast of actors, a celeb presenter, set design, or a dozen library footage clips, the core day rate allows you to compare and contrast in a fair way, and make you own mind up in an informed manner.
Sometimes the edit day rate is called motion design, or something to do with animation, but it's still the core day rate you're paying.
Similarly with film crews: There may be 2nd or 3rd cameras or specialist steadicam or lighting. But the core 1 director plus 1 camera operator rate should be clear and obvious to you from the quote.
If your proposal doesn't show this level of detail on day rates, then ask your video company to revise their quote to show these details.
Your quote should also be summarised under 3 sections:
Pre production
Acquisition (filming, buying stock, voice etc)
Post production.
This makes broad comparison even easier.
When you know all the rates, you can compare and contrast proposals and see where you're getting the best value for your money.
What if you're buying through a marketing agency?
Still ask. It's a reasonable request. Most agencies like to operate transparently, just like your accountant or legal advisers. Even if it costs more you'll still be getting value as their dedicated marketing team will take the trouble to learn your company & marketplace inside out, and bring their specialist knowledge & flair to the production, as well as select the best video subcontractor.
Remember: Neglect day rates at your peril.
Step 2 – Other costs
Over and above core day rates, your video proposal will include other costs, which you may not fully understand – yet.
Here are 5 examples of different types of marketing video choices, which may baffle you when you first see them:
Example 1: Your video may be 100% all-animation throughout, with options for developing a uniquely appealing animated character. You have to compare this higher origination cost with buying-in an off-the-shelf "cartoon smurf" character, which may be quite fit for purpose.
Example 2: You may want a digital video that includes video library clips. While one production company includes 5 clips in their quote, another company may suggest you need 20 clips. How do you tell the difference? Are you being sold short somewhere or not?
Example 3: You may need filming with an actor or presenter, as well as voiceover, and their rates may vary a lot, especially as one company may know a low cost, up & coming talent, while the other company is offering a proven established winner who costs more.
Example 4: One company is suggesting you need less filming days, while another company is saying that you may well need an extra ½ day or more filming to shoot a VIP or CEO or client onsite. They say this because it's well known that VIPs never agree to shoot dates that fit into your tight schedule (they have tight schedules of their own and you have to fit around them, not vice versa).
Example 5: The last example is travel costs, which can vary widely. For example, some talent want taxis from the station. Some film crews charge the maximum possible rate for diesel or evening meals. But you don't find out until later. You need this spelled out up front.
All of these Other Costs represent increases in quality that you may well need or want. They're intended to give you a better finished video. Sometimes it may look expensive – at first – but if it makes a better video that delivers more added-value to your company, then it's obviously worth it.
As a last check, read the terms & conditions of business, as it may include cost or legal conditions you weren't aware of. Challenge these conditions if you don't like them.
Remember: Whatever quality standard you select, your quotation should read crystal clear like a menu in a restaurant.
Step 3 – The length of the proposal
When video proposals vary so much in length & content, it makes choosing a supplier even harder for you.
So let's break this down and take a look under the hood.
There are broadly 4 types of marketing video proposal:
Short quote
Long quote
Optimal quote
Online price list quote
Option 1: The Short Quote
Single page quotes do little to describe the creative treatment required for your video. Be sure you understand this, as what you expect to get may turn out to be an add-on you have to pay for later.
Example 1: Company A's quote may be offering to light the scenes in your video, so their video will cost more as lighting takes longer to set up.
Example 2: Company B's quote seems cheaper, but they've deliberately ignored lighting, telling you that a modern camera doesn't need lights, even though you know at least one of the shots will be a close-up interview.
So which quote do you pick? Does a Short Quote even show this?
The answer is to question them both, and ask their reasons. Then decide what you want.
Don't take a short quote at face value and buy on price alone. Check day rates, and other costs, and ask.
Here are some more similar choices today's marketer is faced with:
Example 3: Company A's quote include actors. while Company B's quote expects to use your own staff to fill in as extras.
Example 4: Company B's quote includes shooting equipment like steadicam or glidetrack, and a 4k HDR camera. Company A's quote is just a bare fluid head tripod with standard 1080 HD.
Example 5: Company A's quote includes extensive post production effects perhaps with a sophisticated creative concept onboard. Company B's quote is mostly basic editing with a few tricks, and a standard buff & polish included (which might be all you need).
Short one page quotes will hide much of the above, and focus solely on price.
Unless you know exactly what you're buying, a short quote can hide too much.
So be sure to ask for detail about exactly what you get for your money, particularly the day rates.
Option 2: The Long Quote
Although they should be a delight to read, long corporate video production quotes can sometimes be dense and tricky to understand.
For example, consider a professional 48 page pdf video proposal full of illustrations and figures designed to impress, with your logo & name prominent on the front page, and a concise Executive Summary.
Why not take a look and see how much of the content is actually about you and your organisation?
Then check how much of the content is "stuffing", ie, generic filler copy designed to sandbag you with endless facts & figures about the video production company, generously overlaid with some big client name dropping.
Is this what you really want? To be sandbagged with generic content? Especially when you want your video crisp & punchy. It tells you a lot about their attitude.
Nonetheless, it can be quite common if you're dealing with an inexperienced sales rep or account manager, and less so if you're talking directly to a full time marketing video producer.
Here's a simple way to check sandbagging:
Do a search on your pdf for your company name (control-f does this nicely), ie, how many times your company name or brand reoccurs?
Does your company name or brand appear much, and is it obviously auto inserted into generic sections in an attempt to personalize them?
Option 3: The Optimal Quote
The best marketing video proposalis the one that focuses on the specific details of your future video presentation and helps you visualize exactly what you're getting.
For example:
1 – It will show a specific creative treatment – explaining ideas specific to your company.
2 – The treatment & accompanying video sample links will help you to visualise how the video style might look once produced
3 – It will include a Video Production Schedule highlighting the steps (script, storyboard etc) & the amount of time you'll need to take to produce your corporate video – and not just a Delivery Date. This will help you plan ahead better, especially when colleagues & staff are involved.
4 – The quotation part of the proposal will be carefully detailed showing all rates clearly, with explanations as required.
Option 4: The Online Quote
An Online Quote is a price list on a web page showing a standard marketing video package, showing what you get for what you spend.
This can work to your advantage when a standard package might well be exactly what you need.
And it will usually cost you less.
The Online Quote can be fine for many productions. And if you need extras & options, they can easily be added during discussions.
But beware that it might lack the level of creativity you need for an effective win in your marketplace.
Remember: The proposal is there to help you visualize and understand, not baffle.
Wrapping it up
It's easy to gloss over a video proposal and just look at the bottom line, especially when reading from a cell or mobile on the move.
But ask yourself – do you understand any or all the jargon? Or the purpose of everything mentioned in the quote.
If something isn't clear to you now, what will this mean later, once you're committed to a full video production spend?
Remember: You're buying marketing video production services from a company you're trusting to tell your business story in a crystal clear way. Their quote should reflect this clarity.
No Hidden Extras
This is both obvious and vital, because you want a single price to pay, something that you can budget and account for.
It's smarter to ask for more details, even if you don't fully understand them.
Here are some examples of details you may have to consider:
Example 1: The number of days (or hours) shoot, and the daily rate for this. And is there any indication of the impact that less days or more days filming will have on your video?
Example 2: Exactly how much graphics, effects and animation are included, and the daily rate. How many seconds of graphics, overlaid captions, titles etc do you get?
Example 3: If your video is all digital, how many stock library video clips are included – and at what price ie, how much are they marked up? 15%, 30% or double?
Example 4: If your video is all animation, perhaps with animated characters, then how much time is included for animation design, layouts & objects, as they all have to be drawn by an illustrator, or bought-in as stock, or maybe a bit of both. You should feel very clear about this from your quote, as it'll impact on the final quality & originality of your programme.
Example 5: The number of hours estimated for editing, animation and post-production, and the daily rate. This will vary, and quickest isn't always best.
Example 6: What options do you have for including additional creative ideas as the video project progresses – while still staying in budget. I've personally never made a video where the client didn't get a fresh unbudgeted idea mid-production. It happens, and probably to you.
Example 7: Check you have full legal copyright and ownership of all the footage as well as the finished video.
Be frank with your marketing video services provider. Ask where the potential for hidden costs may arise. It'll test them, and you can gauge their response.
Summary
Comparing marketing video quotes isn't as obvious as it sounds, but our 3 steps make it easier.
1: Always look at day rates first.
2: You need to know how spot hidden costs, or hidden extras, or what the options mean.
3: Don't be fooled by the appearance of the proposal. Always dig deeper. You'll save.
Always ask for clearer explanations when you're unsure.
You need to know how to compare marketing video proposals on more than just price, otherwise you'll be comparing apples with oranges. Get it right and you can save a lot of money, while delivering great value for your company.
Posted on 17. March 2016
by Robin Schroeter
This is an easy guide on how to get involved in the Film Industry in Thailand – and I'm talking in front of the camera. There are 9 simple steps as a guideline:
1. Get Some Good Headshots / Portfolio Shots
Your face is going to sell you. To get your foot into the door of any production be it TVC, Film or TV is a good headshot of yourself. So your first step should be to get some good headshots of yourself.
A good headshot should show your natural self, best without any make up. Just the way you are, so film people can get an idea of what they can do with you.
There are quite a number of good photographers in Thailand to get you headshots.
2. Send Your Headshots / Portfolio To All Agents
This may seem counter-intuitive at first. Why would you send your portfolio to all agents and not just one?
In Thailand the industry works different than in other countries. Each of the agents in Thailand has a special relationship to some production companies. So if you don't send your profile to all agents you may loose out on some jobs simply because you're not being presented for the job.
3. Join Some of the Actors Facebook Pages
While there is a lot of gossip going on on the Facebook pages of the actors in Thailand, agents as well as some casting directors post jobs there. It is a good way of staying updated on what is going on.
The biggest group is definitely the Facebook Group of the Actors Association of Thailand
After that I'd recommend to join Thailand Extras, Talents, Models & Actors Community
There are several others that you can find if you look around a bit.
4. Extra, Featured Extra, Support, Main
The first 3 steps should enable you to get at least some extra jobs.
Extra jobs enable you to get a glimpse at what it is like to work on set. You're part of a crowd. You hardly get any attention, but it's good to get some experience as to what it is like to work on a set. Most likely you'll work long ours (usually a minimum of 12 hours) for a minimum wage (1500-2500 Baht). You probably sit around and wait for many hours. But that is part of what working on a set is like.
After you've done some extra jobs you're ready to work yourself up the ladder. You go to some castings and if you're lucky you'll score a featured, support or even a main part. With each step your budget, exposure and the attention you get increases. Maybe you are super talented and lucky. Maybe you score your first main part right away.
It took me 1 year of going to castings to get my first featured part. Another 6 months for my first support part and another 6 months after that for the first main.
All I'm saying is, be patient and hang on. When the time is right, you'll get the part.
5. Join Workshops
Once you scored some jobs you should start to invest in yourself. Improve yourself, your skills.
Whatever skills you have you should hone them. Thai language skills can get you into Thai films or Thai Soaps (Lakorn's), acting skills can get you better paid jobs, stunt / martial art skills can get you stunt jobs. If you have the looks you can go into modelling and there are people offering modelling classes as well.
Acting Workshops
Workshops to get into the Film Industry in Thailand
Viewpoints Workshop By Stephen Webber From New York's Siti Company. Organized by Arts On Location
John Marengo
Probably best known English language local acting coach is John Marengo. John offers regular acting classes as well as private tutoring.
I joined one of his classes and I was happy with what I got. It helped me to get a better understanding of myself as an actor.
You can contact John here:
Gymlab Communications
Email: santiamriver@yahoo.com
Mobile: 08-9-934-8195
It is important for you as an actor to join different classes with different teachers to learn new techniques and then choose the ones that work for you.
B-Floor Last Sunday Workshops
B-floor is Thailand's leading avant-garde theatre troupe. Part of their work involves offering regular workshops on the last Sunday of the month. Every workshop is held by a different coach / actor / instructor and on a different technique. The price is very competitive. I have never been disappointed by joing their workshops. The workshops are always bi-lingual.
You can find info on their workshops on the B-Floor Facebook Group
Arts On Location
Arts on Location was initiated by Adjima Na Pattalung, is an organization dedicated to bringing high level drama instructors from abroad to hold 1-week acting classes in Bangkok. Adjjima organises at least 2 workshops per year and the instructors are hand-picked by herself. Every workshop I have joined has helped me improve my acting skills tremendously. the workshops are always conducted in English.
For updates about the next workshops join the Arts on Location Facebook Page
Theatre Shows and Workshops
If that is not enough I created this Facebook Page "Theatre Shows And Workshops" Don't be scared, most of the workshops posted there are in Thai.
Stunt Workshops
Ron Smoorenburg
Ron is probably the most experienced stunt man in Thailand. He started his career back in the Netherlands working on a movie with Jackie Chan. Then moved to Hong Kong and finally settled down in Thailand. He offers private classes for those who are serious about their work.
Mobile:  087 709 9844
Email: ronsmoorenburg74@gmail.com
Website: http://www.ron-smoorenburg.com
IMDB: http://www.imdb.com/name/nm0810653
6. Create a Reputation
Working on set, whether as extra or in another part, don't be mistaken, it is a job. People are watching you and how you behave. If you are being asked to be somewhere at a certain time, be there on time.
Every time you are on set is a chance for you to show people that you are willing to work. People on set are watching and will remember the way you work. The industry is much smaller than you may initally think. Everybody knows everybody and people will talk about you and how you behave on set.
You want to create a repuation of a hard worker who is able to perform.
7. Don't Be An Ass
Although this is basically an addition to Number 6, I think it's worth mentioning as separate point.
I've seen it happening many times. Once on set people start behaving their worst. All the things that momma told you not to do at home are suddenly displayed and laid out on set.
If you behave like an ass on set people will remember and people will talk about you. News will spread and you will see less jobs coming your way – unless your name is Christian Bale, of course.
Until you have reached that level, just don't be an ass. And even if you reach that level, just don't.
8. Create A Resume
In any industry it is good to keep track of what you've done. The film industry is not different. Here is an example of how your resume can look like: Acting Resume
9. Create An Acting Reel
Although it is much less important than in other countries it is a good idea to create an acting / stunt reel at some point of your career to show people what you are capable of. A reel should not be longer than 3 minutes (preferably less than that 2.30 is the standard) and remember less is more. Rather choose fewer scenes with more intense acting than trying to put all of your work into a short clip.
Here is a sample for an Acting Reel
So those are the first 9 steps to get into the Film Industry in Thailand.
Source: http://actors-thailand.com/2016/03/17/how-to-get-into-the-film-industry-in-thailand/
Second only to on-set experience, filmmaking blogs are arguably the best way to learn the craft of filmmaking and to be inspired creatively. I have personally learned so much over the years online (as I never went to film school), and always recommend to filmmakers at every level that they consume as much information as they can from credible blogs and resources online in order to continually further their knowledge base. For that reason, I've gone ahead and made my list of the top 7 filmmaking blogs that you should be following today!
Here we go, in no particular order:
John Brawley
URL: http://www.johnbrawley.wordpress.com
John Brawley is an amazingly accomplished DP based out of Australia, with a list of credits far too large to outline here. As a cinematographer, naturally his blog is oriented towards camera reviews, technical advice, lighting setups and other key topics that provide filmmakers with a wealth of information to learn from. If you are a Blackmagic shooter, you should be paying especially close attention to this site, as Brawley was one of the pioneers of Blackmagic's Cinema Cameras having utilized them on professional/broadcast level projects very early on.
Vincent Laforet
URL: http://blog.vincentlaforet.com
Vincent Laforet's personal blog was one of the first highly relevant filmmaking blogs that truly offered readers valuable and insightful information on the film industry. Updates on his site don't come as frequently as some of the other blogs on this list, but Laforet takes a quality over quantity approach and as such every article that he puts out has a lot of substance to it. He covers a wide range of topics from technical know-how to business advice, and all of it comes from real world experience.
Nofilmschool
URL: http://www.nofilmschool.com
Nofilmschool has become the single best news-oriented filmmaking site out there. With multiple articles added every day, this site (founded by Ryan Koo) provides readers with an exceptionally wide-spectrum of filmmaking material every day. Chances are, if you're reading this list you are already following Nofilmschool, but if you're not – be sure to check in daily for updates on camera tech, business advice, visual inspiration, reviews, and much more. Nofilmschool curates content from across the web so they are able to deliver to you some of the best material found online on any given day.
Hurlbut Visuals
URL: http://www.hurlbutvisuals.com/blog/
The 'Hurl Blog' was founded by acclaimed cinematographer Shane Hurlbut in 2009, and has since become an incredibly rich camera based blog dedicated to emerging filmmakers. While you might expect that an ASC level cinematographer who has been working at the top of his game for years would only focus on the highest end of the filmmaking spectrum, Shane makes a concerted effort to make his site accessible to filmmakers of all shapes and sizes. His articles will touch on prosumer level cameras (like the 5D), professional gear (such as the Canon C500), lighting techniques, production tips and everything in between.
Premiumbeat
URL: http://www.premiumbeat.com/blog
Premium Beat's blog (titled 'The Beat) is an amazing online filmmaking resource that is contributed to monthly by filmmakers, industry pros, and writers. The site covers a wide array of topics, but places a special emphasis on the technical end of production and post-production, while also delivering relevant industry news on a daily basis. Like Nofilmschool, this is a site that you will likely want to visit daily in order to get up to speed on it all!
IndieWIRE
Unlike many of the sites on this list which are mainly technically oriented, IndieWIRE provides filmmakers (and fans) with bigger picture industry-centric news, reviews, advice and more. They cover the independent film scene much in the same way that Variety covers the Hollywood scene, and ultimately tap into the heart of what is going on in the independent film world today. They have nearly every corner of the indie-film scene covered and are updating constantly with enough fresh content to keep you coming back daily.
Filmmaker IQ
URL: http://www.filmmakeriq.com
Filmmaker IQ is another great filmmaking site that covers a very wide range of topics. While many blogs focus primarily on camera tech, post-techniques, or industry news, this website covers it all. Recent topics have covered: camera movement, lighting setups, writing advice, and other fun facts (such as the history of popcorn at the movies) – all of which are written by filmmakers. It's refreshing that Filmmaker IQ covers not only the most current industry related topics, but also historical filmmaking info, allowing for readers to dig deeper into the history of filmmaking as a craft.
Noam Kroll
If you're not a regular reader of this site – my goal is to provide filmmakers with a well rounded resource for truly independent filmmaking by sharing camera/gear reviews, inspiration, post-production techniques and much more from real world projects. What makes my blog different from many of the other film blogs out there (written primarily by cinematographers or editors) is that I am first and foremost a director, and as such write articles from that point of view. Many directors today are like myself in that they often write, shoot and edit their own work, and this website is dedicated to helping filmmakers of all types gain a vast spectrum of knowledge in each aspect of the craft, so that they can become better storytellers.
There are countless amazing resources online for filmmaking, and I have limited my selection to just a few of the websites and blogs that I wanted to feature here. That said, I would love to continue to update this list as time goes on so feel free to comment below if you have any suggestions for additions to this list.
Also, be sure to subscribe to this site using the form on the right panel of this page for updates on future articles, gear reviews, and much more!
Handling the digital release of your film yourself? The possibilities are exciting — and sometimes overwhelming. How do you get your film on iTunes, Google Play, Hulu, Netflix and other giant platforms where new audiences can see the film? It's easier than you think, and the bottom line is: get an aggregator.
While in the past filmmakers have decried their dependence on the "middle men" of distribution, in this case, an aggregator can be a great ally. With the growing trend of aggregators towards flat fees and small-to-no profit share, the option is becoming more transparent and affordable for independent filmmakers with hybrid distribution strategies in mind.
If you're looking into this option for your next film, here is a very quick crash course on what an aggregator does, and where to find out more.
Why do you need an aggregator?
Aggregators are the gatekeepers between you and the big platforms. iTunes, for example, will only accept content from an approved encoding house, many of which are also preferred aggregators. In theory, you can apply to send them content directly from an Apple-approved encoding house. However, most of us wont meet the application requirements — like having 5 feature films that were released theatrically. From iTunes:
Aggregators are experts in delivering content to iTunes. For a fee they can correctly format and deliver your content to Apple's specifications. The majority of independent movies offered on iTunes is provided by one of our aggregator partners...All content must be encoded and delivered by an Apple-approved encoding house. The encoding house processes the content in the Apple-specific encode that is required for distribution on iTunes.
So why do you want your film to be on one of these platforms, again? The decision of where to put your film online is different for every filmmaker. One answer, however, is that getting on these big platforms gets you more eyeballs. A popular model for DIYers today is to get it two places: 1) your own site and 2) everywhere else you can get on for TVOD streams and downloads.
Quick video on demand vocabulary: "transactional" or TVOD is referring to where users pay a fee to watch your film, like iTunes. This is in contrast to "subscription" or SVOD based models like Netflix where you don't make money off individual views, but are paid a flat licensing fee.
The two-pronged approach above is based on knowing you will keep more of the profits from selling your film directly on your site. You'll be looking at maybe a 90/10 split if you are using something like VHX to power your streaming/downloading option, and that's where you'll want your fanbase to go to see your film. On a platform like iTunes, the split is generally 70/30 or 60/40 depending on if the transaction is a sale or a rental. (That's 70% to the filmmaker. Phew.) You're giving up 30% of your share to iTunes, but it's 30% of something you wouldn't have gotten if you weren't on iTunes. And with an aggregator, you can get to iTunes without giving up even more of that revenue to a distributor or sales agent. Here is Erik Andersen, on why he started his Sundance-partnered aggregator Quiver:
It starts with the filmmaker. With an idea for a story that needs to be told. This is the source of all value in the entertainment industry. So, why are they often the ones seeing the smallest reward? I first witnessed this while working at iTunes. Individual filmmakers would call me to beg for help. Their movie had been in the top 50 for six months and they had never received a dime, was there anything I could do? I would learn that their deal with an aggregator or sales agent took 10-50% of revenue and had a clause to cover "expenses" of anywhere from $10,000 – $75,000. Even if those criteria were met, it seemed like filmmakers still weren't getting paid. I felt powerless. Until I realized that it didn't have to be this way. I could change it. I quit Apple and set myself on the goal of turning indie film distribution on its head.
So what does an aggregator do?
Generally, you can expect an aggregator to encode your film to the specs of a particular platform, and then deliver it to them. This can include helping you pass QC, packaging your film's assets for CC and subtitles, and putting together all your artwork and metadata according to the required format of each of the platforms/territories. In some cases, an aggregator will put together a pitch, especially for a platform that selectively curates films (like Netflix, Hulu.)
Finally, once people start buying your film on a given platform, that platform will pay your aggregator, and your aggregator will pay you!
How much does it cost?
Fees are usually around $1K for your first feature film platform delivery, and a smaller fee per platform after that. Some aggregators also charge a percentage of your revenues. Revenue share could be worth considering if you are able to lower upfront fees that you don't have the budget for. Otherwise, there are many aggregators now who don't demand revenue shares, so it's hard to justify forking over 10-15% for no reason.
Additionally, some platforms offer discounts, say for using Compressor. Others can create assets for you that you don't have, like Closed Captions or Subtitles at a discounted rate. So you'll need to research the right price points for yourself to find the best aggregator for your film.  
Who are they?
Here is a handful of aggregators to get you started. While this is not a comprehensive list of every company out there, it is based off of US iTunes preferred partners. If iTunes is not high on your priority list, there may be other great aggregators out there for you. (And feel free to recommend those we've missed in the comments.) Pricing is included for aggregators who made it available. Feel free to visit each site to find out more specifics!
A simple and affordable way to distribute your movie globally.
From Erik Anderson, Founder:
You don't have to give up a part of your dream to make it possible for people to see it. Don't. Don't sell your years of hard work for a small up front payment and a vague promise that will most likely result in nothing. You made your movie. You had the vision. You should be the one to see it through to the end. You should keep as much of the reward as possible. That's why I started Quiver.
Flat fee for first platform: $950
Each platform after that: $175
Revenue Share: 0%
Juice distributes film and television content across the major digital download and streaming platforms – worldwide. We have highly coveted "preferred" distribution partner status with iTunes, Google, Amazon and Netflix. Cable/Satellite/Telco VOD services are presently available through Juice (Canada only) and VUBIQUITY (U.S. and International). We're always expanding our platform reach.
Flat fee for first platform: $945
Each platform after that: $195
Revenue Share: 0%
Walla's proprietary tools leverage technology to solve common VOD pipeline issues and reduce the costs associated with platform delivery. Our Studio Services dashboard was designed as an end-to-end solution to bring efficiency and accountability to our content partners.
Flat fee for first iTunes territory: $999
Fee for each iTunes Territory after that: $49
Other platforms: $199
Revenue Share: 15%
With over 15 years behind us as a purely digital facility, bitMAX is renowned as one of the world's largest independent digital supply chain providers. Our storage and delivery platform is responsible for the distribution of thousands of films, TV shows and more music videos than any other company on the planet. bitMAX is the easiest path for global distribution. Our direct relationships with major platforms which include iTunes, Amazon, Google Play, and vevo allow anyone anywhere on any platform, device, or operating system to access your Film, TV Show, Concert or Music Video . Contact us and we'll let you know what you need to do to get your content out to the world.
Flat fee: Film plans start at $500.00; contact for quote.
Revenue share: 0%
Giant Interactive provides digital and physical media preparation and delivery services for Blu-ray, DVD, digital video platforms and OTT services, as well as complete iTunes content aggregation. We're experts at preparing your content for distribution wherever your audience may be. Our foundation in video makes Giant unique among most full-service digital studios, giving our clients a powerful resource that can enhance any distribution strategy.
Fees: Email sales@giant-interactive.com to find out
We localize, manage and distribute entertainment and media content for the biggest names in the industry. Our revolutionary technology helps us to work smarter and deliver high quality, efficient, cost-effective services.
Fees: Request a quote based on runtime


3 Must-Haves For Your Sample TV Spec Script
MAY 12, 2017 BY SCOTT KIRKPATRICK
Television staff writers hold some of the most coveted (and highest paid) writing positions in Hollywood. And your first step toward 'breaking in' and becoming one of these elite writers begins with crafting a top-notch sample TV spec script.
In articles I've written about Feature-Length screenwriting, I've constantly remarked how Newbie writers should avoid Comedy and Drama like the plague. However when it comes to writing your Sample TV Spec Script, the exact opposite is true!  Comedy and Drama are the only two genres you should consider and all others (e.g., action, horror) should be completely avoided.
3 Must-Haves For Your Sample TV Spec Script
Must-Have #1: The Right Kind of Genre
If you want to showcase your Comedy writing skills, then you'll need to focus on the thirty-minute episode format (either for a live-studio audience as seen in Two and Half Men, or the alternative 'staged' versions as seen in Louie and Girls.  If you would rather work on the dramatic side, then put your emphasis on the scripted one-hour dramas found on Network TV.
Hop online and get sample scripts from existing programs similar to yours to make sure your formatting is in sync. For example, live-studio sitcom formatting is completely different than traditional script formatting. Also TV generally requires 'Act' breaks for commercials.
Want to be creative and blend genres to create a 'coming-of-age dramedy'?
Don't do it!
Choose Comedy OR Drama and move on.
Must-Have #2:  A Ready-to-Go Portfolio
You will need a minimum of two (ideally three) sample TV spec scripts before you're ready to present yourself to Hollywood as a TV writer.  And unlike the old days, these sample scripts should not be from existing series. You need to 'invent' two fully fleshed out TV series (and write one script for each).  You don't have to write a Series Bible unless it helps you, but you might want to consider outlining 3-4 additional episodes for each series to give a sample of what a full season might look like.
You should NOT try to 'showcase your skills' by writing one sitcom-comedy and one hour-long drama… As a writer you must choose either Comedy OR Drama and invent two unique series from the same genre.
Won't you get a reputation as only being a 'comedy' writer or 'dramatic' writer? 
YES!
And having that reputation is a good thing.  In TV, executives and showrunners are thinking long-running seasons with multiple episodes… Being able to remain consistent with genre type and tone will really showcase this as a strength for your writing skills.
Must-Have #3:  Proof of 'Episodic Output'
When choosing your series 'ideas' don't get too wrapped up in the beginning, middle and end story mentality. You will first need to create an overarching 'concept' that has the ongoing ability to generate endless story possibilities.  To do this, keep your ideas big and open-ended. For example, think Breaking Bad's big & open concept of a cancer patient cooking and dealing meth to pay his medical bills. It is not a plotline you're after here, but rather a 'filter' to keep ideas on track while offering countless ways to mishmash conflicting characters and episodic plotlines together.
Second, when it comes to your sample TV spec script, focus on fully-realized 3-dimensional characters; pay careful attention to ensure your characters are able to both augment and conflict with one another simultaneously.  Remember, its characters that drive long-running TV series; by taking these fleshed out characters and placing them into your big & open 'concept' filter, you will have a series capable of season-after-season of strong episodic output.
From here, you can begin pulling individual 'segments' from either the overarching 'concept' or from the individual lives of your fleshed out characters and build episodes around them—this allows each episode to have its own unique beginning, middle and end without altering the strength or direction of the entire series.
As I explain in my book, Writing for the Green Light, this ability to continually create fresh ideas from pre-existing frameworks is absolutely crucial in the landscape of TV writing (writers are constantly forced into creating new and unique 'episodes' for seemingly exhausted programs that have been on the air for several years).  If your Sample TV Spec Scripts can showcase this ability, your work will stand head and shoulders above the competition and get taken seriously by Agents, Executives and Key Decision-Makers.