News Blog
Subscribe to posts
Sathorn Square
Name: Sathorn Square
Address: 
Sathorn Square Office Tower,
98 North Sathorn Road, Silom, Bangrak, 
Bangkok, 10500 Thailand
Email: 
Facts: 
- Area:
Total rentable area of 75,000 sq.m
- Floors: 40
- Opened:
- Wiki:
---
Images
Name: Empire Tower
Address: 
Empire Tower, South Sathorn Rd., Yannawa, Sathorn, Bangkok 10120
Email: info@mahanakhon.com
Facts: 
- Area:
total of over 350,000 square meters
- Floors: 58
- Opened: 2016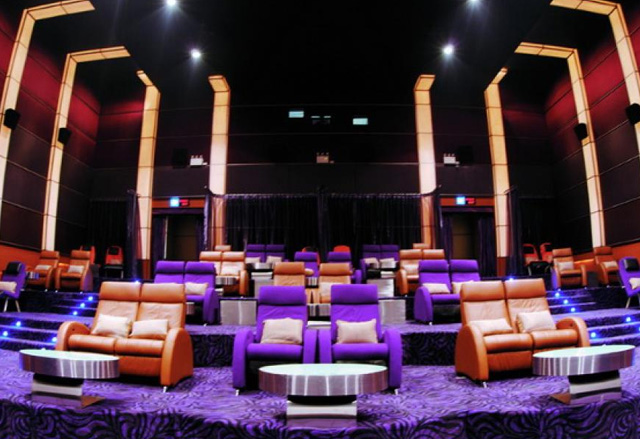 Bangkok Airways' Blue Ribbon Screens at Paragon Cineplex
Price: Mon-Wed B1,100/person or B1,800 per couple; Thu-Sun B1,100/person or B2,000 per couple
Here, you can expect comfy adjustable reclining armchairs with blankets and pillows. Though the armchairs make it a little difficult to snuggle up, you can still enjoy a little privacy as each couple's seating is set a good distance away from one other. The ticket includes a 15-minute massage in the cinema's own spa room. As another perk you can choose from a Starbucks' coffee and tea set, popcorn and soft drink, or red wine with almonds. Sign up for the M-Generation card at the counter for B100 to get discounts of B100 per seat for a year (for visits before 6pm).
BSC Diamond Screens at Esplanade Cineplex
Price: B600/person
Set in the Esplanade shopping mall next to MRT Thailand Cultural Centre, the BSC Diamond Screens offer adjustable reclining armchairs similar to the ones at the Bangkok Airways' screens. One cinema has only 48 seats so you can enjoy your film in relative privacy. On top of a blanket and a pillow, the ticket includes cookies and your choice of drink from the menu of cocktails and juices.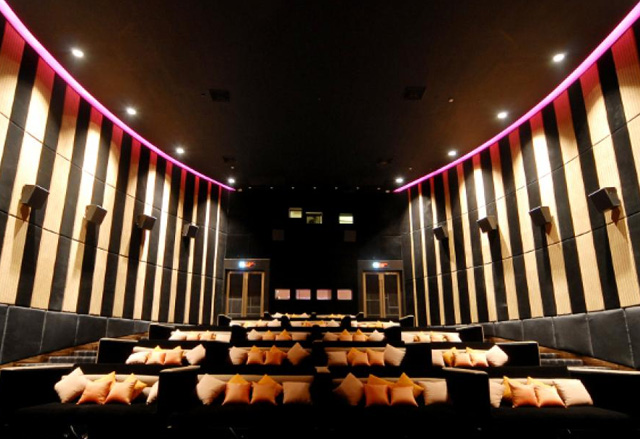 Enigma at Paragon Cineplex
Price: B3,500 per couple
Come here if you really want a taste of luxury and VIP treatment. Enigma's candle-lit lounge has massage chairs as well as a full bar. With your ticket you're given a meal and a complimentary beverage (Jacob's Creek wine, soda, or a mixed cocktail), served by a butler during your movie—what could be better than tucking into a plate of carbonara while watching a film? The sofa-bed seating is fully adjustable so you can find the perfect position that's comfortable.
5/F, Siam Paragon, Rama 1 Rd., 02-129-4635. BTS Siam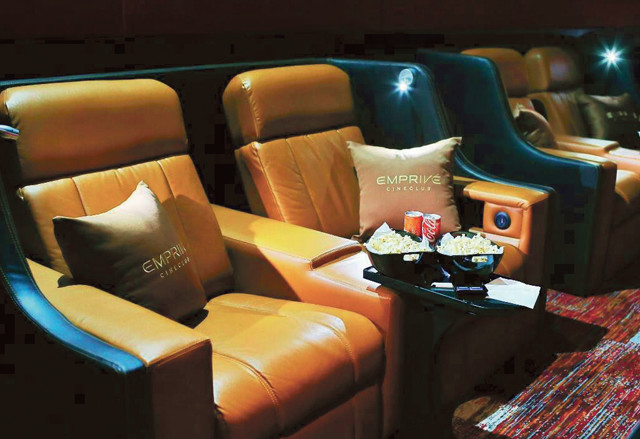 Price: Starting at B300
There are three different classes of seat here, starting at a low B300. If you want to test how much you can eat, choose the First Class option (starting at B950) and get access to Emprive's exclusive bar and lounge, which serves an assortment of hot and cold tapas. After you've finished eating and your movie has begun, get comfortable in the reclining chairs and enjoy the benefits of a theater with al the latest tech.
Embassy Diplomat Screens 
Price: Starting at B900 but check their website for regular promos
The cocoon seating adjusts with the click of a button, while a personal server waits in the wings to bring you more popcorn. Arrive before your movie to relax in the lounge areas enjoying books, Wi-Fi, sweet treats and savory bites. In the brand new sound-proof Heineken Room, knock back a few without missing a minute of the movie or annoying your fellow cinema goers.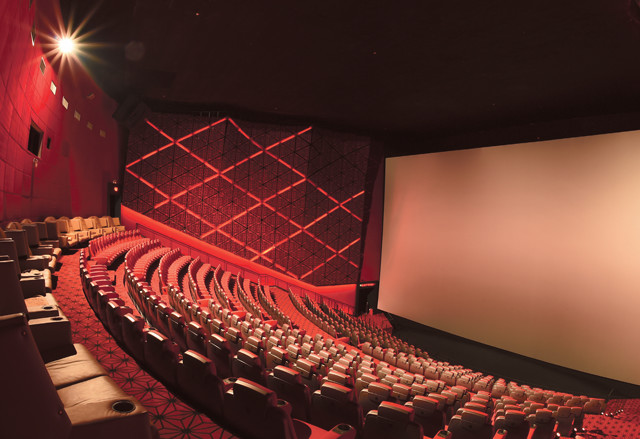 The four cinema options at Quartier Cine-art offer different levels of comfort, but each have the same attention to visual and audio quality. SCB First Screen is Quartier's luxury on a budget theater with prices starting at B200. For that you get a plush reclining chair and a blanket to keep you cozy—though you're going to have to fight the urge to fall asleep. For the full luxury experience, pick the Aeon option (B1,800 per couple) and tuck yourself into a bed-like seat with food from Dean & Deluca.

MX4D 
(NEW)
Price: Mon-Wed B450; Thu-Sun B500
This state-of-the-art 4D experience is nothing like any ordinary interactive theater you may have gone to before. The seats are lush and comfortable, so even when you're jostled about you don't feel sore afterwards. The difference between MX4D and others of its kind is that you can truly immerse yourself into the movie with the addition of scent to the 4D experience.
SF World Cinema, 7/F, CentralWorld, 999/9 Ratchadamri Rd., 02-264-5555. BTS Siam/Chit Lom. www.mx-4d.com/
SF Cinema First Class
Price: Mon-Tue B700; Thu-Sun B800 per person
SF offers an elevated cinema experience at four locations in Bangkok including CentralWorld, Central Ladprao, Central Rama 9 and Central Chaengwattana. Each branch comes equipped with 180-degree adjustable reclining armchairs, a blanket and pillows. Tickets include all-you-can-eat canapes and snacks at the lounge before movie time. Alcoholic beverages are available at an additional cost. Inside the theater, you can use a call button to have a butler serve you unlimited popcorn and soft drinks during the movie.
- See more at: http://bk.asia-city.com/city-living/news/bangkok-best-vip-cinemas#sthash.TJ5nGoJb.dpuf
There are two brand new night markets in town. We went to see how they compare with Bangkok's old favorites. Photos by Nemintorn Ketkeaw
By Tewit Phanitprachaya | Feb 24, 2015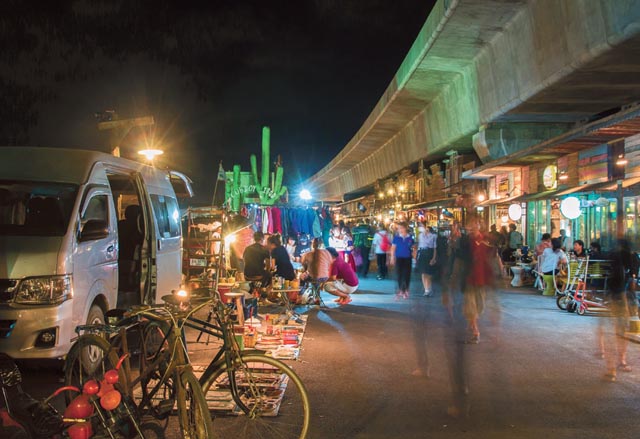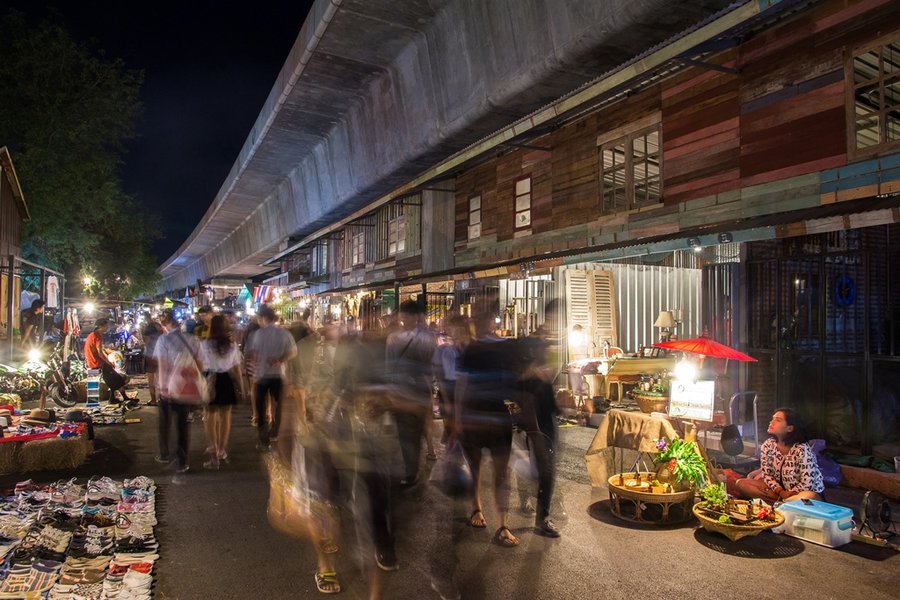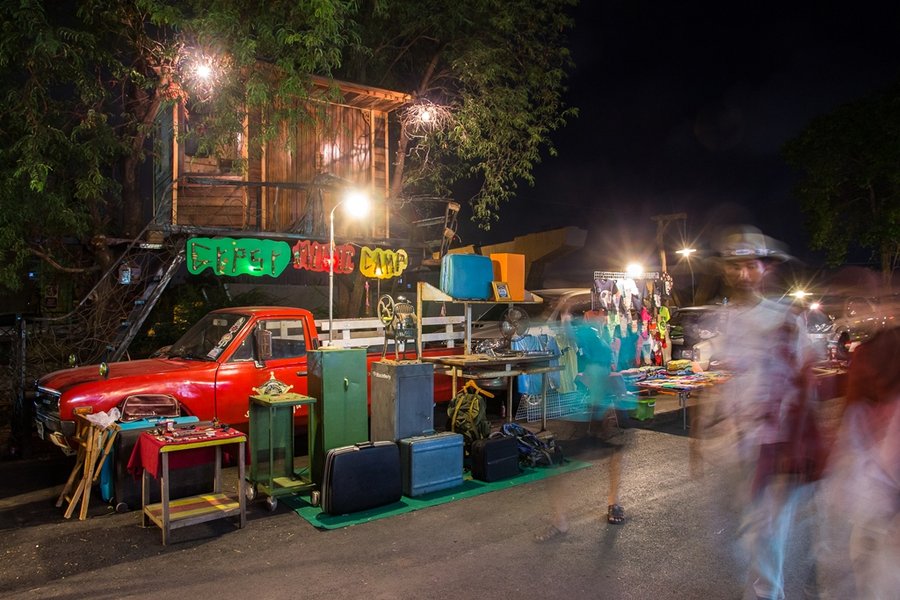 NEW:

 Siam Gypsy Junction
Does this name seem familiar? That's because Gypsy Market was once part of JJ Green. The owner has now collaborated with notorious gambler-cum-businessman Chud Tao Poon on this B100 million transformation of a shadowy, 1.6-kilometer-long swathe of road beneath the soon-to-be MRT Bang Son station. But don't expect the new market to be the same as the old one. After a major revamp, it now sports an Oriental-meets-Wild-West vibe.
What we like: Piles and piles of eye-candy spanning everything from collectible Lego to taxidermied buffalo, auto spares, classic movie posters and knickknacks for the home. Many stalls also have old turntables crackling out vinyl music, while elsewhere you'll find impromptu gigs from indie outfits, complete with haybale seating.
What to buy: The secondhand and faux-old items are strictly themed by section: nostalgic sweets, old-school toys, secondhand apparel, Harley-Davidson collectibles, comic books and more. We also found some lovely time-honored home curios like porcelain kitchenware and ceramic flower pots. There are a number of pop-up bars, too, most of which have a cross-continental tavern kind of vibe and affordable prices.
What annoys us: With both cyclists and motorcyclists riding the entire 1.6km stretch, the market can seem un-pedestrian-friendly at times. We love looking at all the custom bikes, but they'd be nicer stationary and not screeching past us.
Who goes there: With a shortage of convenient transport, most visitors come from around the area––families, students and other random market explorers.
Pro tips: If you happen to own a bike, bring it with you to avoid feeling left out. Also, the ground-level railway running alongside the market is still active. Keep a wide distance!
Where: MRT Bang Son (under construction). Open Wed-Sun 6pm-1am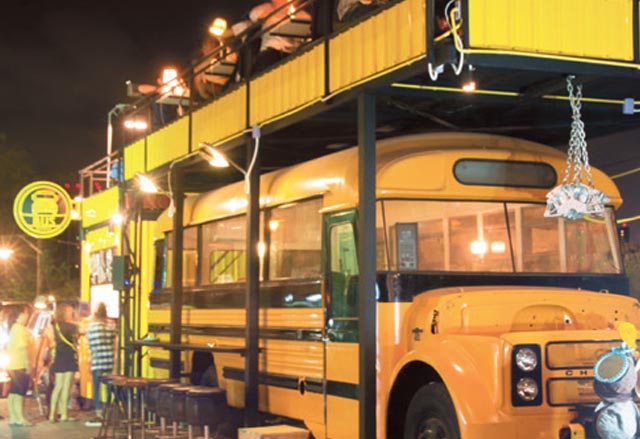 > DRINK HERE:

 Bus Bangkok
This patio-like boozer sits in a modified double-decker van with an expanded rooftop drinking area decked out in a retro-tinged fashion. Enjoy panoramic views of the bulb-lit market while sipping Hoegarden (B165) to an ever-rewarding Thai playlist. Go for Sangsom (B250) or Corona (B150) to round off your night wildly.
Siam Gypsy Junction. 083-613-6564. Open Wed-Sun 6pm-1am. 
---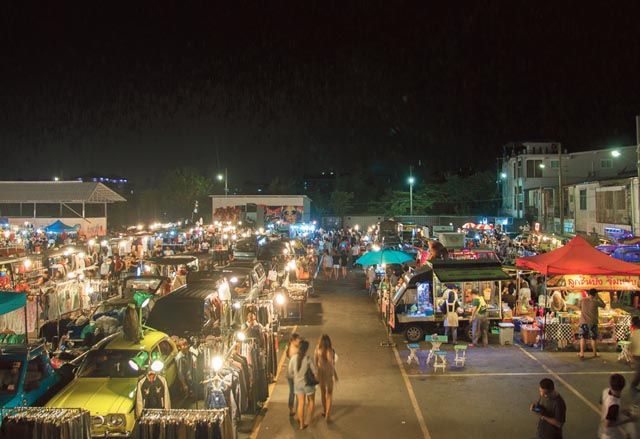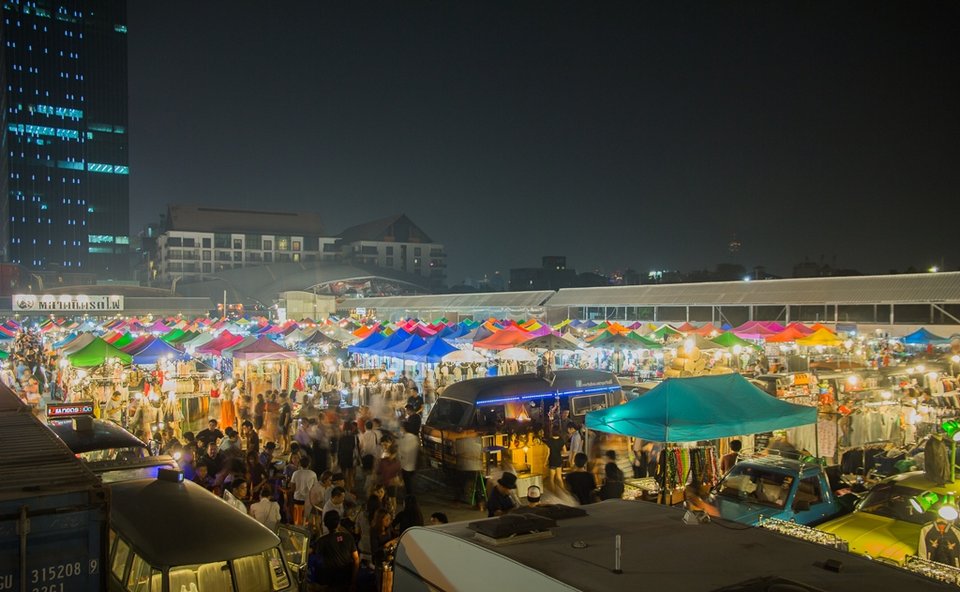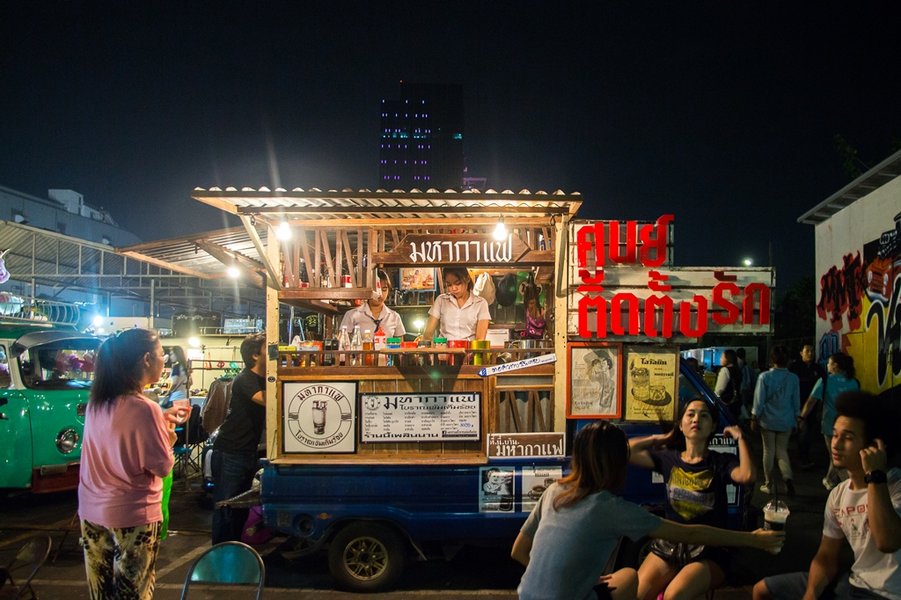 NEW:

 Rod Fai Market 2
Following the huge success of the first Talad Rod Fai (see below), the market's owner Pairod Rolraew has just opened another branch in the more accessible Ratchada area. What was once a parking lot behind Esplanade Complex has been given a mega face-lift. Though smaller, the new market boasts a similar vintage atmosphere to the original. Expect a vibrant bazaar of street fashion, food and home decor—a welcome sight given the closure of the Ratchada Night Market a few years ago.
What we like: Why mess with a winning formula? This newbie already matches its out-of-town Srinakarin predecessor for color and crowds. The stylized, Art Deco-inspired entrance (think Hua Lampong) from the original makes a reappearance with a few barely recognizable differences. There are street gigs from local indie artists, of course, while the drinks are a real bonus: from old-school, manually-pumped sodas to traditional Thai-style coffee and boozier offerings.
What to buy: The street eats are endless, from all kinds of yum (salad) to on-the-go meat skewers. The home decor section is a retro goldmine, too, spanning faux 18th-century grandfather clocks to neon-lit Heineken billboards. Like all markets, there are also piles and piles of pre-loved clothes, but here you can expect a better-thanaverage selection.
What annoys us: Come the weekend the crowds are pretty terrifying. On top of the unwanted invasions of private space, some popular, Pantip-hyped food stalls like Ba Mee Poo Jom Pa Lhung (prices starting at B150-B700) require you to stand in line for at least half an hour.
Who goes there: Everyone, especially teens—but what did you expect, with the MRT so close?
Pro tips: If you take the MRT, you're absolutely fine. Otherwise, parking at Esplanade is a nightmare (especially if it's holding a performance like Beauty and the Beast). Your car may end up half a kilometer away in a scary, old building.
Where: Esplanade Complex, next to MRT Thai Cultural Center. Open Thu-Sun 5pm-1am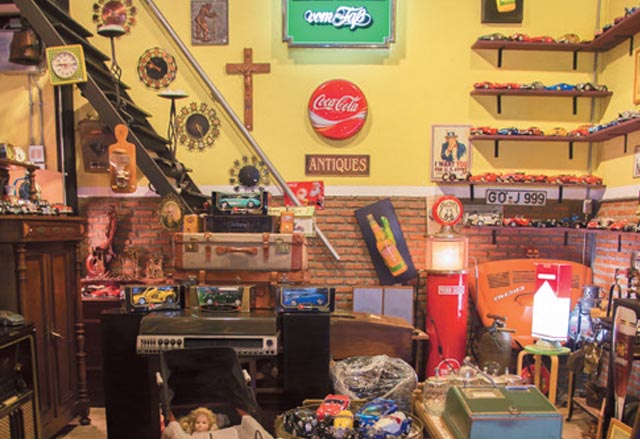 > SHOP HERE:

 Oh!! Antique
This enticing, vintage-looking furniture showroom displays products the owner and his wife picked up on their travels, as well as other imported wares. Among the highlights are 18th-19th century pieces like opulent Louis XVI-esque sofas, English-style tea paraphernalia, antique figurines and old car models. Also available are smaller decorative pieces such as typewriters, nightstands and oak-wood chairs. Prices vary from item to item but start at around B1,000 for smaller pieces.
Rod Fai Market 2, 081-897-4184. Open Thu-Sun, 5pm-midnight
---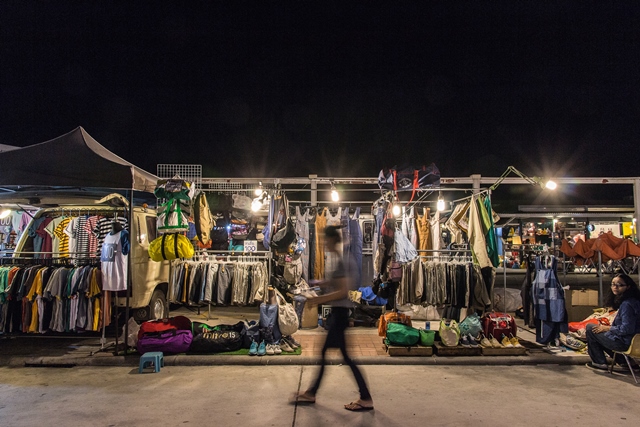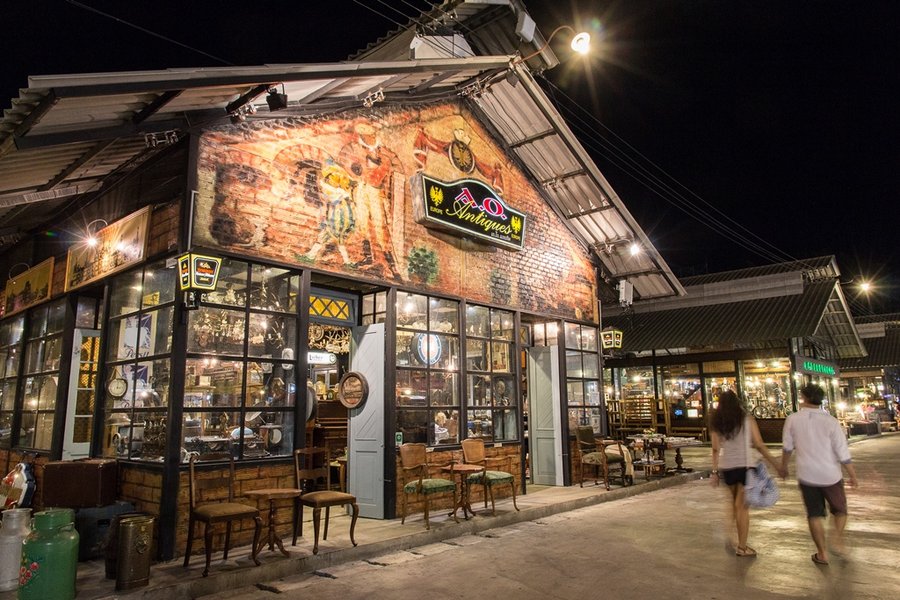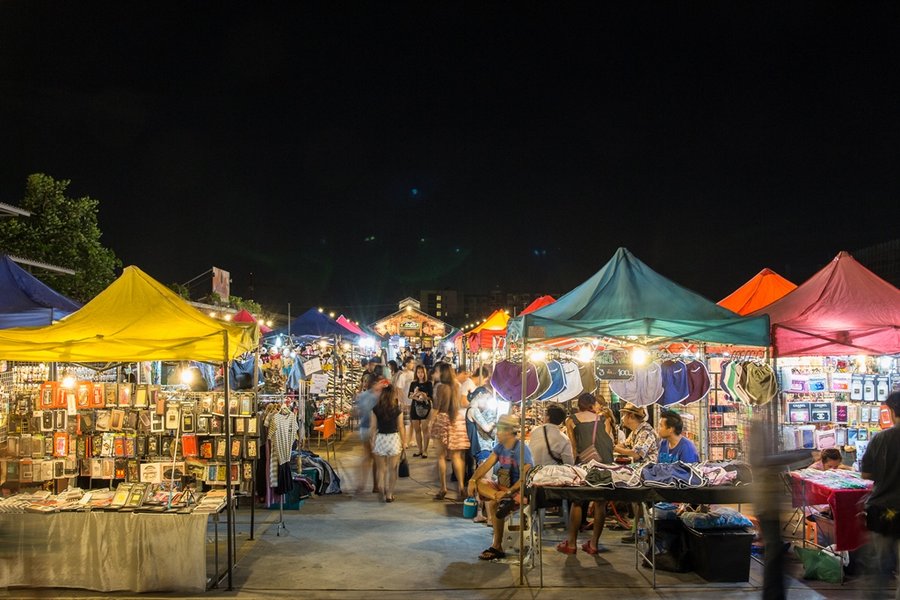 Rod Fai Market 1 
Tucked behind Paradise Park, this is the original vintage shoppers' mecca (though it used to be over near Chatuchak). The area is vast, and though best known for its vintage furniture stores, carries a great deal more besides, from cheap electronic goods to pets. 
What we like: Though no longer anywhere near Rod Fai Park, they've kept up the railway theme well, from the front entrance to the Wild West-styled warehouses at the back. There are also some great vintage finds, from old rock T-shirts and workers' overalls to furniture of various styles. 
What to buy: The front zone is dedicated to bars and coffee shops, as well as a few stores selling new (vintage-style) items like posters and bike accessories. The in-the-know crowd heads straight to the back of the market. Tawasilp Lamp Décor (081-880-9809) specializes in old enamel lampshades that start around the B1,000 mark, while nearby U-Saard is our top choice for larger furnishings. 
What annoys us: The pedestrian access is terrible. There's one route in and one route out, and it's nowhere near adequate for the amount of people who go there. What's more, each of the tiny bars has its own live band competing against one another, which makes for one awful racket. We also reckon it's time to ditch the puppy-bait pet stores.
Who goes there: Sri Nakarin teenagers and the nine-to-five workforce. 
Pro tips: The market is really deep, and the only good stuff is right at the back. First timers can easily be put off by the rows of plastic tat before they get to anything cool.
Where: Sri Nakarin Soi 51, behind Paradise Park. Open Fri-Sun 6pm-midnight
---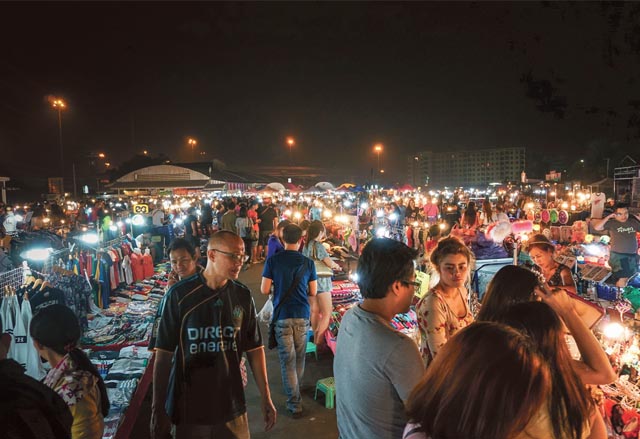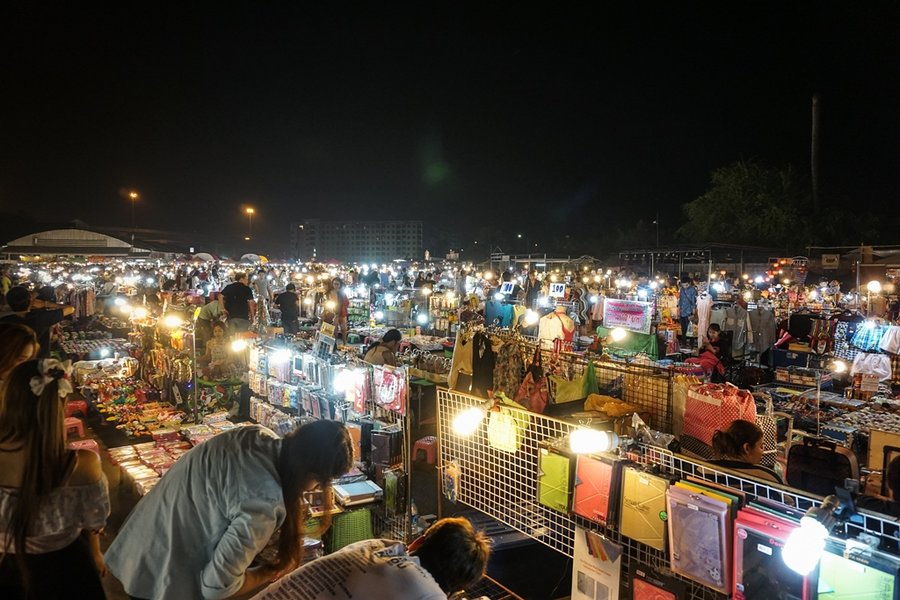 Liab Duan Night Market
Drive a little further out of town and you'll find this market whose name in Thai means "the market located along the expressway." This night market transforms 17 rai of land in the Ramintra-Ekkamai neighborhood into pandemonium, with bumper-to-bumper cars crowding the entrance every evening.
What we like: The Thai idiom bae kar din (selling stuff on the ground) pretty much sums this market up. Unlike most night markets
around town, Liab Duan makes no allusions to hipness. This is as down-to-earth as gets, with a low-key charm to counteract your inner-city angst. It's open daily, too.
What to buy: There's no shortage of clothes to squander your paycheck on: from basic tees to more runway-suitable looks—most of which are copycats coming in under B1,000. Expect colorful Chinese-produced G-Shocks, monogram-patterned Louis Vuitton counterfeits and New Balance sneakers with faux-velvet upholstery. But fret not; elsewhere you'll find heartwarming corners filled with vintage-looking bric-a-brac, old-school sweets and artsy tote bags. The pop-up barbers are inviting at only B200 (no wash), too.
What annoys us: The parking lot. You'll need to wear more than flip-flops to navigate this dusty, bumpy patch of earth. We can only imagine how bad it gets in the rainy season.
Who goes there: Local residents and club-goers who stop here on Fridays before heading off to the bars along the Ekkamai- Ramintra Road.
Pro tips: If wandering the market sipping a multi-berry smoothie doesn't quite quench your thirst, do note the long row of booze bars situated just inside the market grounds. Not only are the drinks cheaper this far out of the city, but it seems the strong arm of the law hasn't extinguished the shisha smoke, either.
Where: Opposite Tawandang German Brewery (Ramintra Branch), near Watcharapon junction. Open daily 5pm-2am
---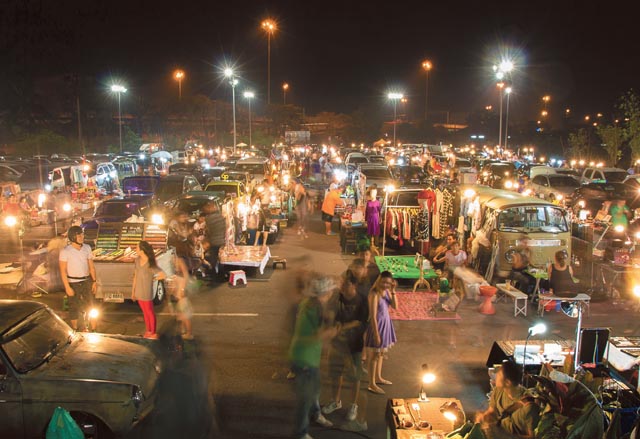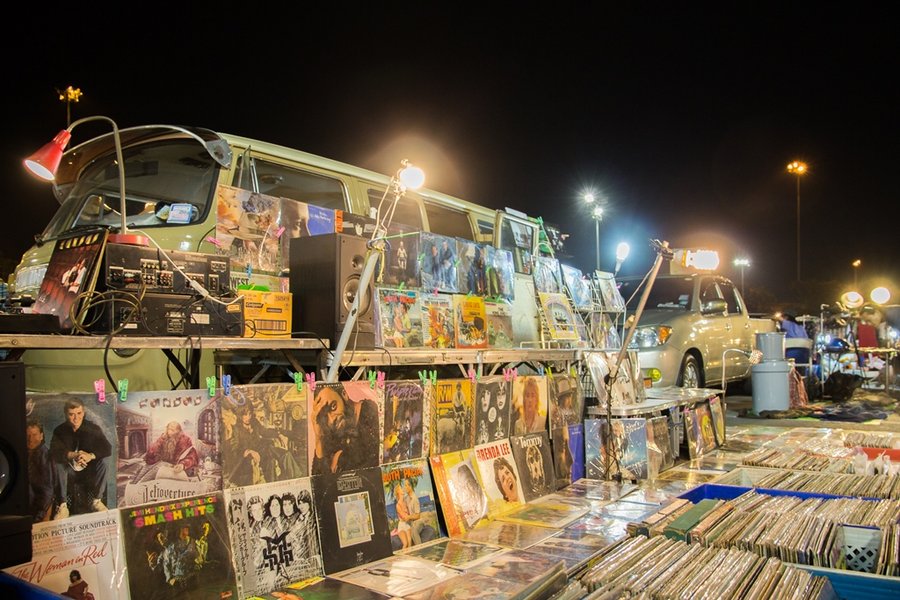 Rot Boran Market (Classic Car Market)
Not too far from Liab Duan Night Market, over on Kaset-Nawamin Road, you'll find this cool-looking market stashed away behind The Walk community mall. Beyond its towering, Art Deco-inspired façade is an array of classic automobiles converted into pop-up stores. Situated right by a serene lake, this hidden gem is just the spot to enjoy a retro-tinged evening.
What we like: The breezy rock 'n' roll-fueled Americana vibes, emphasized by some of the well-turned-out vendors. The vintage Volkswagens and beige-hued buildings make for some good selfie backdrops, too.
What to buy: There are all sorts of secondhand knickknacks—some cool, some not—including time-honored Buddhist amulets,
old-school pin to (lunchboxes), vintage tea and coffee paraphernalia, and local and imported vinyl records.
What annoys us: It's all a little bit too good to be true, starting with the picturesque setting. While the laidback, country-style vibes
are a nice change, Rot Boran seems to lack the spontaneous edge of the other markets. It feels a little bit cliquey. Also, there aren't many food stalls, just a couple of places selling drinks.
Who goes there: Kasetsart uni students and resident yuppies, plus some random revelers taking a stroll before hitting the bars along Ekkamai-Ramintra Road.
Pro tips: Newcomers to this part of town might be bewildered by its seemingly endless straight boulevards lined with unfinished once-to-be-expressway pillars. You (or your rookie taxi driver) could easily mistake the turn-off for Nawamin Festival Walk for your actual destination, too. Luckily, each pillar has a visibly-sized number sprayed onto it. Watch out for pillar number 175 and make a U-turn (if coming from Nawamin Road) to arrive at the real The Walk.
Where: The Walk, Kaset-Nawamin Rd. Open Tue and Thu 5pm-midnight
> SHOP HERE: Aod's Turntable and Equipment
Vinyl records are all the rage again and this shop provides a very appealing range of secondhand imported LPs and 7-inches (pop, rock, jazz, heavy metal, reggae, thrash—you name it) as well as Thai oldies. Among all the classic soundtracks, crate-diggers will spot lots of Jimi Hendrix, Queen, Carabao, The Palace and Fruity, with prices starting from B100. The owner also buys vinyl at pretty competitive prices, too.
Rot Boran Market, 081-625-4563. Open Tue and Thu, 5pm-midnight
---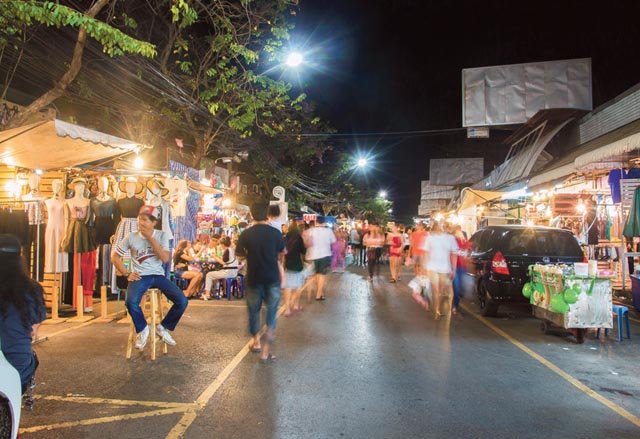 Chatuchak Friday Night Market
By day the asphyxiating Chatuchak Weekend Market is throbbing with local and imported shopaholics. Friday night, though, sees fewer crowds and particular attention paid to local fashion brands and street eats.
What we like: The gleeful absence of scorching sunlight and the more laid-back vibe may convince you to bid farewell to the daytime JJ for good. Thanks to thousands of light bulbs, all of the sub-sois and main roads inside the market are surprisingly well lit.
What to buy: Chatuchak is still Chatuchak, irrespective of what time you visit. The majority of shops are pretty much the same as you'll find in the daytime, including local fashion brands—dresses, glasses, caps, jeans, tees, you name it––from both wholesalers and retailers. Note that only sections 12, 14, 16, 18 and 20 (clothing, accessories and food) are operational at night––no gardening, pet and ceramics zones.
What annoys us: Cars are allowed to drive inside the market, making for some tight squeezes. Also, there's only one block of toilets for the whole market. Be prepared.
Who goes there: Ninety-percent Thai teen night strollers, with only a few expats for company.
Pro tips: Peak traffic is about 11pm-midnight. We say drop by around 10pm or otherwise after midnight. The parking lots inside the market are catastrophic, with shockingly limited spaces. There are also horror stories about miscalculated parking fees. Not that the dark, tree-shaded streets beside the market are any better, whether it's the local self-appointed mafia asking for money or the police clamping down on illegal parking.
Where: Kamphaeng Phet 2 Rd. Open Fri 10pm-late night. BTS Mo Chit/MRT Chatuchak Park
---
Green Vintage Night Market
Just a stone's throw from Chatuchak Weekend Market, this market formerly known as JJ Green is manned by the former owner of the sadly-missed Ratchada Night Market. This impressively funky space blends a low-key selection of fashionable clothing stalls and rows of industrial-slash-retro drinking parlors.
What we like: The massive variety of items, mostly fashion, antiques and home décor, features more than just hipster clutter. Oh and the good-looking crowd that doesn't try too hard to stand out.
What to buy: Known as a mecca for car aficionados, the market's back zone is dedicated to all types of secondhand automobile spare parts (plus bicycles), all of which are pretty open to bargaining. For 80s and 90s kids, there are lots of old-school toys like Tamagotchi and Nintendo devices, plus now-rare cassettes of everyone from The Beatles to Joey Boy.
What annoys us: Largely the same things as at Chatuchak. Plus, if you don't want to have runins with some irascible shop-owners, note that photography is often prohibited, even if it's not properly sign-posted. Who goes there: Fashionable young things and snappily-dressed professionals. Some city slickers.
Where: Kamphaeng Phet 3 Rd. Open Fri-Sun 5pm-midnight. BTS Mo Chit/MRT Chatuchak Park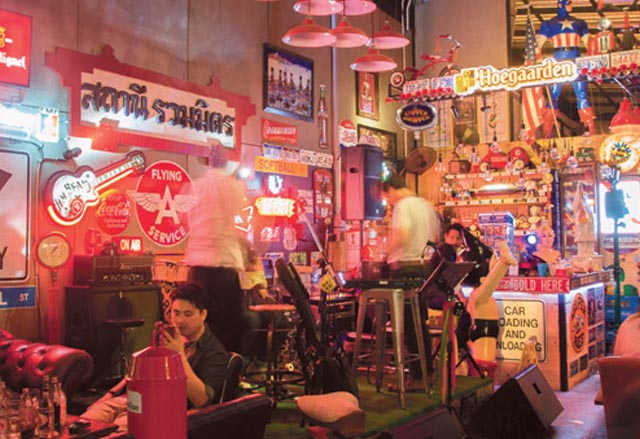 > DRINK HERE:

 Sathan Nee Ruam Mit
Also known as Ruam Mit Station, this cozy bar looks like a long-lost brother of the ubiquitous retro-themed Taksura chain and is packed with eye candy for toy-collecting hobbyists. Designwise, it's all bare cement and retro bric-a-brac like neon-lit clocks and signs. When the old-school jukebox isn't in use, local bands fill the stage. It's cheap, too: you can get drinks and food like San Miguel at B120, Heineken at B70 and kung chae nam pla (raw prawn in spicy fish sauce) at B100.
110/46, Green Vintage Night Market. 087-112-5251. Open Fri-Sun 6pm-2am. BTS Mo Chit
- See more at: http://bk.asia-city.com/shopping/article/bangkok-night-markets#sthash.p0Ug0Btx.dpuf
MahaNakhon Building
Name: MahaNakhon Building
Address: 
114 Narathiwat Road Silom, Bangrak, Bangkok 10500
Tel: +66 (0) 2 234 1414
Email: info@mahanakhon.com
Facts: 
- Height: 314M (1,030 ft)
- Number of floors: 77
- Opened: 2016
---
LOCATION MAP
---
---
 PHOTOS AND IMAGES
---
What Is the Best Video Broadcasting Software for Event Production?
Event producers have unique needs when it comes to video broadcasting software. Since producers are consistently cranking out events, they need something that's streamlined and easy to use. To that end, they need software that is powerful and feature-rich.
Luckily, there are a number of software packages that meet this criteria. In our conversations with event production specialists, three software packages (and a few hardware alternatives) come up again and again as highly recommended options.
The professional video broadcasting software market
The three musketeers of the video broadcasting software world are vMix, Wirecast, and VidBlasterX. Each of these packages has both strengths and weaknesses, and is suitable for a different range of users. There are alternatives to these packages, such as OBS Studio. However, OBS is a free, open source application that doesn't have as much functionality as these paid apps.
Necessary features for event production companies
Here at DaCast, we've worked with a number of live streaming event production companies, including Dogwood Media, EventStreams, and Central Media Services. In our understanding of the industry, professional streaming service providers look for advanced features such as the following:
Instant replay (essential for sports such as the Italian Pro Racing Circuit)
Integrated social media and chat to make content interactive
Multiple bitrate streaming
Recording master streams and ISO camera feeds
vMix video broadcasting software
One of the overall best video broadcasting software applications for professional users is vMix. Features in vMix include:
Support for HD and 4K resolution
NDI and IP source support
Transitions and green screen (chroma key) support
Efficient H.264 encoding
Picture-in-picture and multi-view, plus overlays
Remote control via web interface
Additionally, there are two vMix features that stand out for production companies: vMix Social and Replay.
vMix Social

For event producers, providing value-added features is a major selling point. One great way to stand out is via social media integration. The COO of vMix wrote a guest blog for us recently about vMix Social, an add-on available for free. Essentially, vMix Social allows you to pull social media feeds into your live streams quickly and easily.
You'll also be able to connect to Twitter, Facebook, Instagram and IRC chat, and easily add a selected comment, photo, or post as an overlay on your live stream.
vMix Replay
Another great feature of vMix for sports event production is instant replay. vMix Replay allows you to select up to four cameras to keep a running buffer of footage on. After a great moment occurs (such as a goal during a soccer match), simply click the requisite time span or manually mark the period you'd like to replay. The footage will be added as a new event, which can be replayed at any time by double clicking on it.
Pricing and compatibility
There are six versions of vMix. The highest end, vMix Pro, costs $1200 and supports 1000 inputs, 4K video, four camera instant replay, scripting, PTZ control, and more. The Basic version is free, but only supports SD video and four total inputs. However, the in-between versions offer a good mixture of functionality and affordability. There is also a 60-day free trial. Learn more on the vMix pricing page.
In terms of compatibility, vMix only operates on Microsoft Windows computers.
Wirecast video broadcasting software
Another great professional video streaming software option is Wirecast. Produced by Telestream, Wirecast offers comparable functionality to vMix, but it's their integrated titling tool that separates them from the rest, and is a major advantage for event producers. Other notable Wirecast's features include:
Social media integration
Unlimited sources including images, cameras, IP video, and more
Included "NewBlueFX Titler" program makes it easy to create 3D titles and scoreboards
Chroma ke
As an added bonus, Wirecast also supports an instant replay function for sports.
Pricing and compatibility
Wirecast comes in two versions: Studio ($495) and Pro ($995). The Pro version includes a number of features that are unavailable in the Studio version, including ISO recording, additional input sources, support for HDV cameras, additional production tools, and output to Blackmagic Design capture cards. Premium support is available for a yearly fee.
Wirecast runs on Windows 7 or later, or Mac OS El Capitan or later.
VidBlasterX video streaming software
The final video broadcasting software package that we'll highlight is VidBlasterX. VidBlasterX is a relatively aging option, but the latest version—version 4—is full of new features. Version 5 is also in the works. A beta is available now.
VidBlasterX is built around a unique modular interface that allows you to customize the layout to your needs. Other features of VidBlasterX include:
Live switching and transitions
Video overlays and titling
Support for video in up to full HD 1080p
Recording and archiving
Support for a wide range of cameras, capture cards, A/V file formats, and screen capture
Replay feature for sports use
A wide range of tutorials are available via That VidBlaster Guy.
Pricing and compatibility
VidBlasterX is a subscription-based software, and comes in three versions. The free trial edition allows you to test out the software with a watermark included. The Studio version costs $99 per year. Lastly, the Broadcast version costs $999 yearly, and includes direct email support. Free upgrades are included as long as your subscription is active.
VidBlasterX is a Windows-only application.
Is the best video broadcasting software actually hardware?
Using live streaming software isn't the only way to broadcast live video from your cameras to the internet. The alternative method is to use dedicated hardware. Hardware encoders are built to do one thing, and do it well: encode and stream video. Because of this, hardware encoders are typically highly efficient, reliable, and feature-rich.
Let's take a look at the hardware encoder offerings from two of the top names in the market: TriCaster and Niagara.
NewTek TriCaster
Video company NewTek has been a pioneering force in video and broadcasting since the 1980s, when their central applications ran on Commodore Amiga computers. Today, NewTek's iconic Video Toaster has morphed into the TriCaster line of products.
TriCasters are portable live event production systems for live streaming, broadcast video, video recording, and virtual sets. They are highly functional and widely used throughout the broadcast industry. Currently, TriCaster is available in four product lines.
The TriCaster 8000 is a 24-channel video switcher in a full-size 4U rack-mount frame. It supports eight Mix/Effect rows, and professional I/O for eight cameras.
The TriCaster 400 Series is a smaller 2U rack-mount unit for more mobile use. It features Pro I/O for four cameras and a 16-channel video switcher with four Mix/Effects rows.
The TriCaster Mini Series is a hand-held unit for easy transport. It includes a 16-channel video switcher with four Mix/Effects rows, I/O for four cameras (pro or prosumer), and a small built-in screen.
Finally, the TriCaster 40 is a 14-channel switcher with four virtual inputs and form-factor designed for use on a cart or table. It has SD and HD I/O for four analog cameras.
To learn more about the TriCaster lineup, visit the NewTek website.
Niagara Video Corporation
Another alternative hardware solution for live streaming event production comes from Niagara Video Corporation. Niagara has been in operation for more than 10 years, and is widely used in the broadcast market. Their products are known for their reliability and functionality.
Niagara's encoders currently include four model lines, each of which are available in a variety of configurations. Each model also includes a 1-year limited warranty.
The Niagara 9100 Series is a 1U rack-mount unit that supports up to four simultaneous HD video sources. The 9100 allows you to deliver multiple simultaneous streams and includes a web SDK to enable customizations and integrations. Additionally, it also supports redundant power supplies, and includes a 1 TB hard drive.
The GoStream Digital and Analog encoders are powerful, compact two-channel streaming encoders with integrated solid-state drives. They're available in SDI or DVI-I versions, as well as versions that support Component/Composite/S-Video and HDMI/DVI VGA.
The GoStream B264 encoder is designed for hard use in broadcast and streaming applications. This small unit (3 fit in 1 RU) features two SDI inputs, two ASI outputs, four Gigabit Ethernet ports, and a variety of other connectivity options.
Finally, the GoStream Mini 100 is a flexible, affordable encoder with low power consumption and support for common consumer and prosumer video formats. The device includes inputs for SDI, HDMI, component, composite, DVI/VGA, and unbalanced audio.
To learn more about Niagara encoders, visit their website.
Conclusion
As discussed in this article, there are a number of video broadcasting software packages available for professional event production. vMix, Wirecast, and VidBlasterX each have a number of unique, powerful features. In addition, hardware encoders provide a reliable and powerful option. We hope this article has helped you pick the right option for your needs.
Have you prepared your website for streaming events? People should be able to register, purchase tickets, and watch seamlessly on a variety of devices. If you're not sure your website is ready for the task, contact DaCast's Professional Services for development help.
Thanks for reading, and good luck with your live streams.
3 Best Streaming Video Services for Event Production
Event producers are hearing the same request more and more: "Can you add live streaming functionality to your services?" The ability to add live streaming to your product offerings is a value-added service. As such, it can increase profitability and business without adding too much in the way of additional costs. This article will examine the best streaming video services for event production.
First, we will discuss a few of the unique considerations that event producers—as opposed to businesses or individuals—may have when live streaming. Then, we will compare three leading live streaming services to help you make your decision. In a world increasingly driven by video (which is expected to make up 78% of mobile data traffic by 2021), these skills are essential.
Live streaming considerations for event production companies
Here at DaCast, we work closely with a wide range of event production specialists. These businesses include Central Media Services, Toronto-based EventStream, and Dogwood Media.
Event producers are different from other organizations in a number of ways. For one, events are their lifeblood, not just a smaller part of a bigger operation. When events are your bread and butter, the ease of use of a given video platform and workflow is key. Everything must be smooth, 100% reliable, and integrated.
Let's take a look at a few other considerations for event production companies.
How big are your clients?
If your main client-base is corporations or other large organizations, your budget is likely to be relatively large. You will also need a service that can scale up to reach a potentially huge number of viewers. Robustness and reliability are key here as well.
For medium-sized clients, you'll want to strike a balance. A platform that provides a high level of functionality while also keeping costs under control is important.
If you primarily work with small clients, your budget will be smaller. This means that minimizing costs is more important than having every single feature.
How much do you live stream?
Here are a few questions to consider: Are you streaming multiple times a week? Is your operation focusing more on larger events that happen less often? How large is your average audience? What quality do you stream at, and what sort of bitrate can you expect? (Learn how to make those calculations here).
These questions can help determine how much bandwidth you will need for a given live stream. Averaging out your bandwidth will help you decide which plan to purchase from a live streaming company. Buying higher-level plans generally provides a better price per GB of bandwidth.
For those who stream less often, event pricing, which allows you to purchase bandwidth as needed (rather than a monthly plan), may be preferable.
How can you cut costs and streamline operations?
Production companies are positioned in a middle-ground between streaming video services and clients who wish to live stream. This market positioning can be lucrative, but does entail some major costs. Most of these are capital (cameras, audio equipment, switchers, etc.) and labor.
The price of a streaming video service may be a small part of the overall cost of doing business in event production. However, plans can add up quickly. Some professional-level streaming plans cost in excess of $2000-3000 per month. That's as expensive as adding another person to staff. However, if you're a high-end studio event producer, that may be within your budget.
Therefore, an event production company should strive to find streaming video services that provide all of their necessary features at minimal cost. As with any business, saving costs here will positively impact your bottom line.
Another key element for event producers is integration with existing workflows. This is often best done via an Application Programming Interface (API). To learn more about how APIs work, and how to integrate them into your workflows, check out our blog on how to choose an API.
Best streaming video services for event production companies
There are many streaming video services available today from a range of companies. In fact, there are too many to even mention in one post. Instead, we're going to highlight three of the most important platforms.
Each of these services is widely used by businesses, individuals, and event production companies alike. These platforms have a range of strengths and weaknesses. Some users will find one more to their liking than the others. To help you with your initial selection, let's share a few of the features each of these platforms possess.
Livestream
Livestream is a major player among streaming video services. Their features and pricing indicate they have professional users mostly in mind. These features include tracking and analytics, monetization, and custom-made hardware for encoding and filming. However, this hardware integration may be one of the Livestream platform's biggest disadvantages as well. When you choose this hardware, you're locked in to using Livestream.
Livestream has three basic price levels. The basic plan costs $42 per month. It includes basic ad-free live streaming, integrated live chat, and event archiving. However, it does not include some basic features such as white label streaming and embedding.
The premium plan costs $249 per month. It adds the ability to stream to Facebook Live or YouTube concurrent with Livestream. It also includes the ability to embed live streams and phone-based customer support.
Finally, the enterprise plan adds cloud transcoding and RTMP input support, white label streaming, and more. There is no set price as the enterprise plan is customizable based on the unique needs of each user. All plans include unlimited streaming, which is an advantage for event producers.
Ustream
An early pioneer in live streaming video, Ustream now falls under IBM's ownership. Their services include some interesting features. One of these is an aggregated CDN which uses multiple content delivery networks for maximum speed. Advertising support is also integrated.
Ustream is available in a few different plans. The Pro plans cost between $99 and $999 per month. All of these plans include ad-free broadcasting, support for resolutions up to 720p, social media integration, and security controls. For $99, you get 100 ad-free viewer hours. For $499, you receive 2,000 ad-free viewer hours. The $999 plan bumps this up to 5,000 viewer hours and adds even more features.
A 30-day free trial is available for the Pro plans. However, the maximum of 720p broadcasting may be too restrictive for some users.
Users who need more viewer hours, support for 1080p full High Definition broadcasting, and a variety of other advanced features should choose the Enterprise plan. This plan is priced on a custom contract basis.
DaCast
The third and final streaming video service we're highlighting is DaCast. DaCast is our own functional, easy to use online video platform. For example, DaCast integrates white label service at every price level, an advantage for event production companies.
Another useful feature is the integrated paywall, which makes it simple to pre-sell access to events. New features surface regularly. One of the latest is multi-level access, which enables you to set different levels of access for different users. This can be ideal for allowing increased access to clients for the purposes of previewing streams and editing descriptions.
DaCast integrates a powerful API and several SDKs. These enable integration with other publishing workflows, mobile apps, and more. DaCast works with Akamai, the largest content delivery network in the world. This means that live channels are provisioned instantly, and buffering and lagging are minimized worldwide. The integrated multi-device video player is customizable for on-the-fly changes so you can match your streams to your client branding.
Conclusion
Event producers need streaming video services that are feature-packed. Ideally, these can also integrate with existing broadcast and recording workflows. They also need platforms that are affordable within the budget they are working with. Above all else, they need a platform that's reliable and easy to use, with as little friction as possible. Time and energy during an event is just too valuable to waste on complex platforms or systems that don't work.
Are you in the event production business? If so, we'd love to hear about your experience. What features are the most important to you? Did we miss anything in this article? Let us know in the comments and we'll update it to support the latest information.
Remember, a great way to help you make a decision about a streaming video service is to test them out using a free trial. Unfortunately, some platforms don't include major features in their free trial. However, here at DaCast, we include almost everything in our 30-day free trial. To try it out, sign up for free right now by clicking the button below.
Stone & Star

UNWIND after a long day's work and dine on fusion dishes. Crafted from the finest ingredients their dishes still maintain the original tastes of Thai street food at Stone & Star. Also available are high quality baked goods and pastries along with handcrafted coffee and tea. Various creative concoctions of mocktail and cocktail drinks are also available at night to enjoy with the live performances on the weekends.

 7 Soi Chidlom, Ploenchit. 02 255 4079. Stoneandstarrestaurant.com
THE first GODIVA shop in Thailand introduced the '2017 GODIVA Valentine's Day Collection (Buffet de Gateaux) with a limited edition box. The collection comprised of six different packaging designs with between five and 11 specially selected chocolates in each box. The chocolate collections were specially created for the month of love include six flavours: Strawberry Shortcake, Sacher Torte, Crème Brûlée, Paris Brest, Lemon Cheesecake and Green Tea Chiffon Cake.

2nd Floor Groove Fashion Zone, Central World, 999/9 Rama 1 Road.
02 640 7000. facebook.com/GodivaThailand
---
CONSIDERED the French creêpe specialist offering handmade dishes mainly with fresh, imported ingredients for an authentic outstanding taste, La Crêperie can customise the dishes to various flavours to cater to the needs of the customers.

The Gourmet Garden Zone,
G Floor, Siam Paragon 991
Rama 1 Road. 02 662 6499. facebook.com/lacreperiebangkok

---

---

Reach for the stars at CRU Champagne Bar


CENTARA Grand at CentralWorld together with G.H. Mumm – one of the largest Champagne producers with highest sales in France – give Red Sky's rooftop the chicest revamp: a luxury rooftop champagne bar. CRU Champagne Bar is here to offer an unforgettable experience with a 360-degree breathtaking view and a wide range of champagne to choose from.

Centara Grand at CentralWorld 999/99 Rama 1 Road.
02 100 1234. centarahotelsresorts.com

---

RECENTLY launched premium roll cake shop straight from Osaka, Japan, Gokoku offers premium roll cake made from purely premium fresh milk cream with soft and light taste that has won the hearts of the Japanese people for many years. Now available in the Gourmet Garden Zone, Siam Paragon.

The Gourmet Garden Zone, G Floor, Siam Paragon. 991 Rama 1 Road. 02 551 0022. gokoku-thailand.com

---

Wang Jia Sha


INTRODUCING a contemporary touch to the traditional Shanghainese cuisine, Wang Jia Sha Hong Kong under the Gaia Group, offers all the world famous delicacies from Shanghai including xiao long bao, tan tan noodles, and stir-fried spare ribs with plum sauce, a plethora of contemporary Shanghainese dim sum are also available.

Siam Paragon. 991 Rama 1 Road. 02 129 4661.
Hiding in plain sight, the new and hip coworking spaces in Bangkok are offering more than just comfortable spots for digital nomads and startup entrepreneurs to work in
by Morgan Thanarojpradit

FOLLOWING the boom of startup businesses in Southeast Asia, many operators emerged capitalising on this new lifestyle trend by creating various stylish and luxurious coworking spaces in Bangkok.
    
Coworking space operators now offer a new level of convenience to all business nomads both expats and locals alike. With more flexible terms for rental offices or desk spaces on shared floors, the most important characteristics seem to be the community-building aspect offering programmes and events to create a networking community.

Here are 12 coworking spaces in Bangkok any digital nomad should visit

HUBBA Ekkamai
Known as one of the first coworking spaces in Bangkok aiming to cater to both startup entrepreneurs and independent workers. Offering a comfortable place to work, the facilities definitely live up to its reputation as the most established coworking space in Bangkok.
Rate: B299 per day and 2,990 baht per month

The Hive Phrom Phong
The Hive - six-storey high loft-style building with rooftop bars and a Spa - offers an expansive and professional coworking space with a very business-like atmosphere for all guests with periodical events hosted as part of community-building activities.
Rate: B350 per day and 5,500+ baht per month


Workloft Silom
Another premium community-based workspace located conveniently next to BTS and MRT stations on Silom Road. This unique coworking space focused on offering productivity enhancing environment to support all business with private offices, coworkspace hot desks, meeting rooms, event spaces with fully equipped facilities.
Rate: B100 per day and 3,000+ baht per month

Colab on Convent Silom
Impressing on providing more than just a physical space for busy travelling businessmen, Colab on Convent believes in providing space to establish a community of collaboration and creating a connection in the most convenient atmosphere in the city centre.
Rate: B300 per day and 4,900++ baht per month

Launchpad Silom
Offering a wide open space resembling Silicon Valley workspace with a mixture of startup teams and digital nomads with an emphasis on technology, this coworking space offers a quiet and professional atmosphere for all renters.
Rate: B260 per day and 5,400 baht per month

Draftboard Chidlom
Located in the business centre area in Bangkok, the coworking space caters to numerous creative freelancers and designers. It has been expanded to accommodate more activities for renters. Complete with necessary facilities, this is another coworking space digital nomads should visit.
Rate: B250 per day and 5,900 baht per month

Klique Desk Sukhumvit Soi 23
An inspiring coworking space in Bangkok decorated in colourful tones of yellow, black and grey, this shop-house style building has been transformed into a professional yet comfortable coworking space that is only a short walk from Asoke BTS/MRT station.
Rate: B300 per day and 3,600 baht per month

Muchroom Pradipat Soi 23
Located near Saphan Kwai BTS station, this 50-year-old building has been redesigned to reminisce that of a comfortable and contemporary home suitable for shared working space. Offering professional workspace with the best office features with the homely atmosphere, this coworking space is another enjoyable location to visit for all digital nomads alike. Also available are afternoon tea break on Tuesdays and yoga classes on Wednesdays.
Rate: B240 per day and 3,900 baht per month

The Hive Bangkok Sukhumvit Soi 49
Only five minutes from Thonglor BTS station on a motorcycle taxi, this coworking space is known as the most diverse and dynamic in Bangkok. Converted from a large shop house, this 5-storey coworking space is laid out to suit all freelancers, designers, entrepreneurs and digital nomads alike. Offering basic office facilities, the best features include rooftop bar and garden.
Rate: B350 per day and 5,500 baht per month

HUBBA-TO On Nut, HABITO community mall
Established itself as a Co-creation Community, HUBBA-TO offers stunning and efficient workspaces and services for members. This active community provides a variety of services that are more than just a coworking space. Also available are workshops, events, and community activities.
Rate: B299 per day and 2,990 baht per month

Poolsub Space Charoennakorn Soi 8
Established in 1983 as a garment factory named Poolsub Arporn, the family business involved exporting children's clothing to the Middle East until 1991. The building was a warehouse for one of the largest toy company in Thailand for the next 23 years until the year 2014 when the building was recalled and renovated to create a professional coworking space as it is today.
Rate: B200 per day and 4,500 baht per month

Regus ZEN World Tower Zen World Tower 4, 12th Floor
Strategically located at Rajdamri Intersection, the Zen World Tower is close to restaurants, banks, five-star hotels, retail shops and entertainment outlets easily accessible with the BTS Skytrain. Offering a perfect solution for local and overseas business nomads and companies looking for flexible and fully-equipped office spaces with comprehensive services at a reasonable price.
Rate: B790 per day and per single desk rate

It's not enough just to offer spaces, internet and good coffee anymore. It's all about the image, the services, the location and the community events. Tackling the specific niches has become the best tactic to keep the business rolling in whether it is writers, designers, crafters or workshop-addicts.
Source: http://www.thebigchilli.com/features/bangkoks-best-coworking-spaces-for-digital-nomads?ct=t(TheBigChilli_Weeklynewsletter_Mar2017_we3_27_2017)